I am trying to update my blog for my own benefit.  I can't always remember what I do year to year, so it's nice to go back and read my own blog.
A year ago this past October, Nicole and I took a trip that I have been wanting to go on for a very long time.  After reading Susan Branch's book about her trip to England, I made reservations and packed up and went!  Just like that!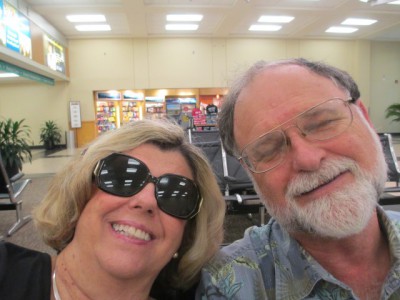 Buddy drove me to the airport.  He looks like he is sleeping.  It was kind of early in the morning.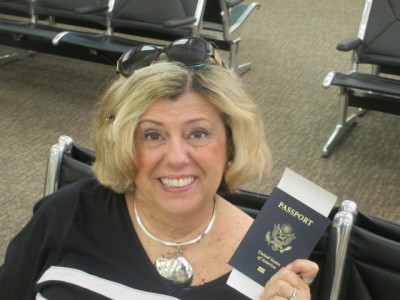 However, I was ready to go!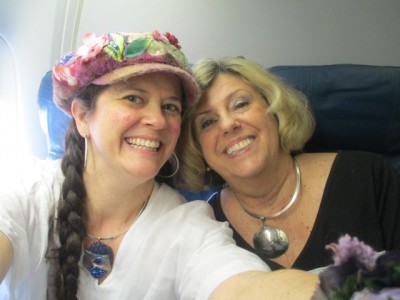 I met up with Nicole at Newark airport.  We had great seats and lots of room to spread out.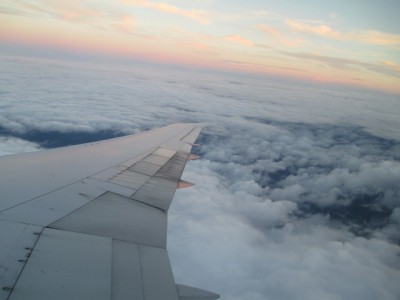 Flying is one of my least favorite things to do.  Nicole can sleep but I cannot.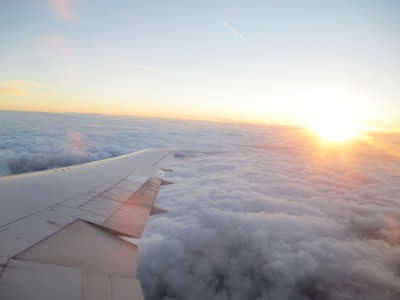 The sun beginning to set .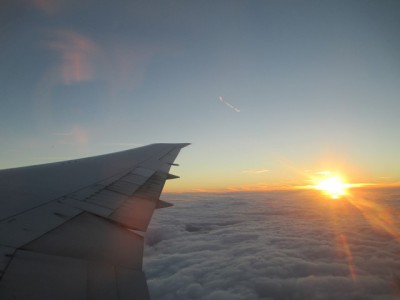 It was really beautiful.  Nicole took these pictures because she sits by the window.  I like the aisle seat.  I had at the time a very bad knee problem.  Since then I had a total knee replacement in May.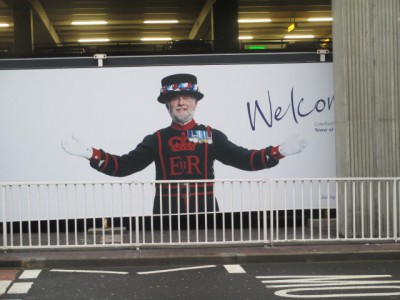 What a wonderful welcome.  I was so excited and couldn't wait to get started.
We took a cab to the hotel and as we were driving I just keep taking pictures.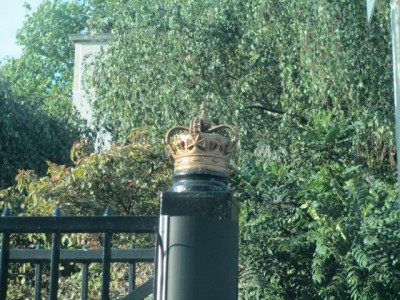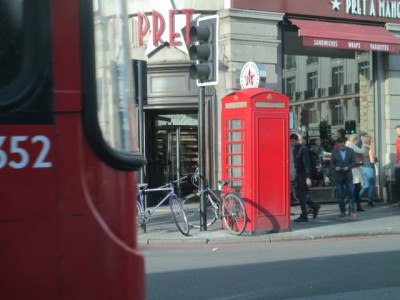 Couldn't wait to get out and get a picture of us in the phone booth.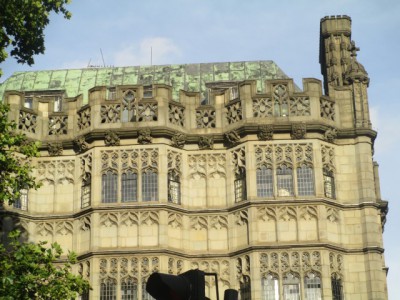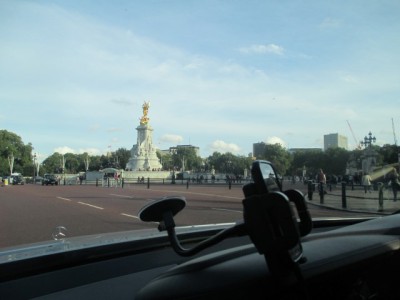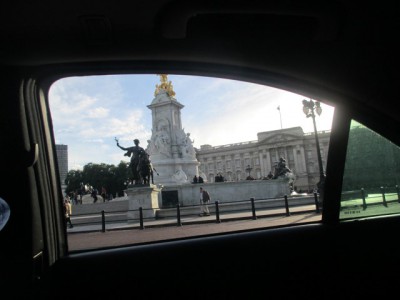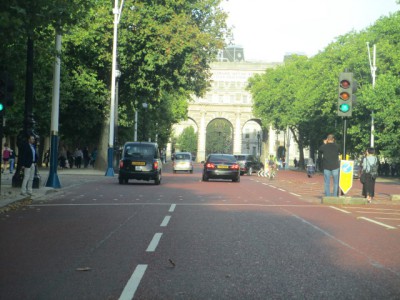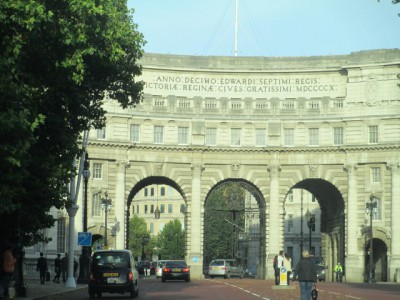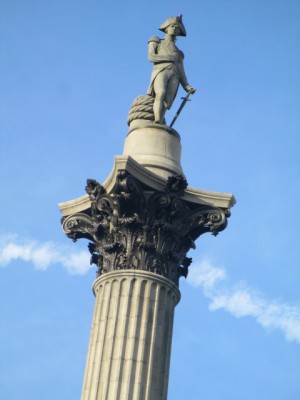 After we got settled into our hotel room, Nicole had made reservations at the Savoy for tea before she left the states.  I was thrilled!  The Savoy!  Couldn't wait.  We caught another cab and off we went.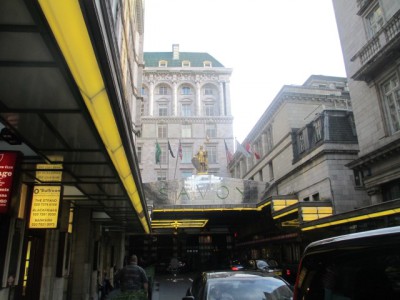 It's difficult to see the Savoy sign in this picture.  When we left the sun had set and the sign was more visible.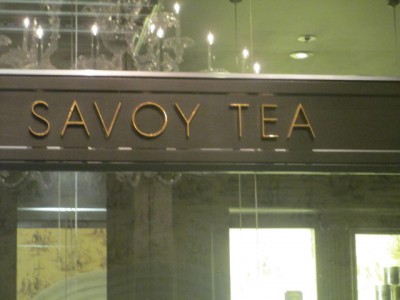 When Nicole was little we always pretended to have high tea at her little table and chairs set.  Here I was in London, for real, getting ready to have tea.  The lobby was just beautiful with all it's beautiful flowers.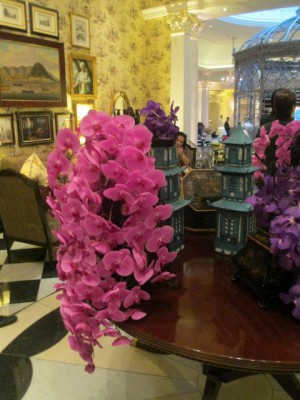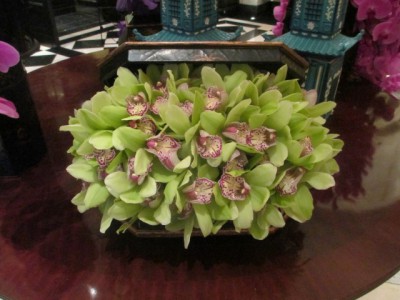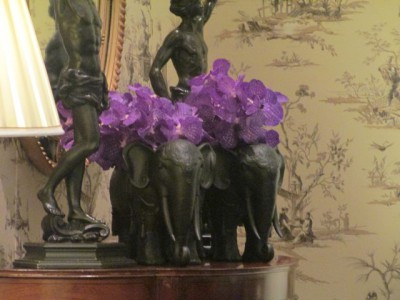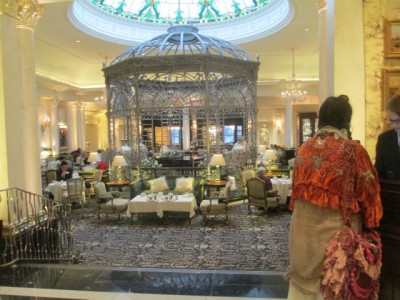 This picture is looking into the tea room.  Nicole is on the right checking our reservation.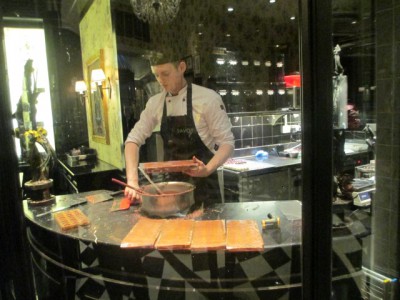 While we were waiting we watched a man making fudge.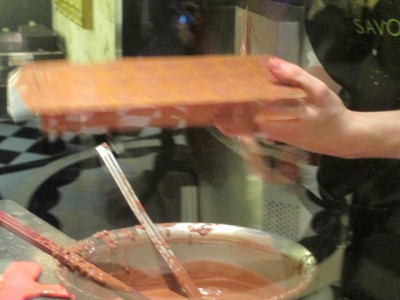 More beautiful flowers.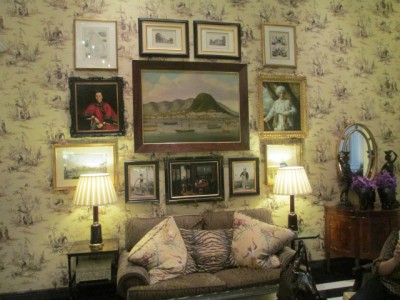 The waiting area was so warm and elegant.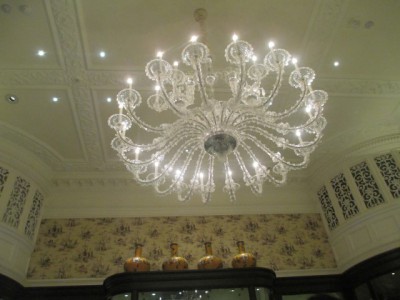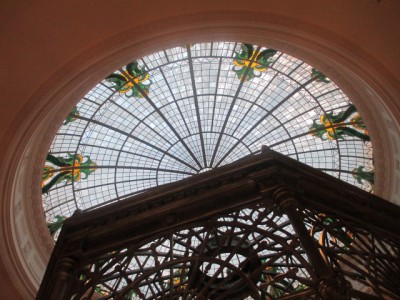 This was looking straight up when seated in the tea room.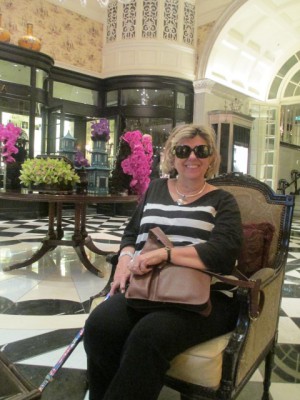 As you can see I had to use my cane the entire time I was in England.  At times I also had to use my walker.  My leg was not going to stop me.  I did learn that in England they are not as accommodating to the handicap  as the USA .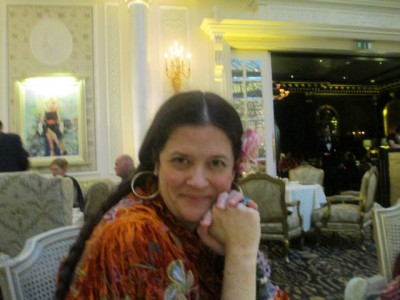 Finally seated.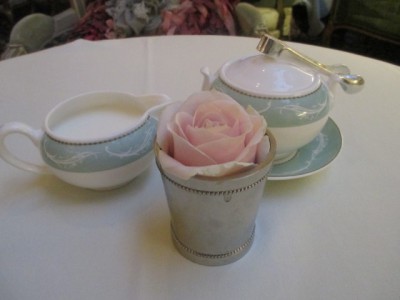 Let the tea party begin!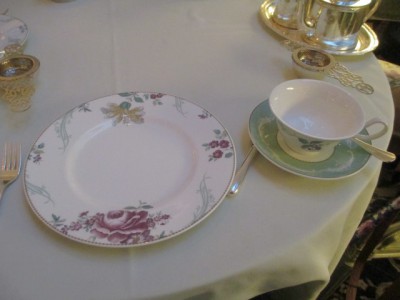 The china was beautiful!  I couldn't stop taking pictures of everything.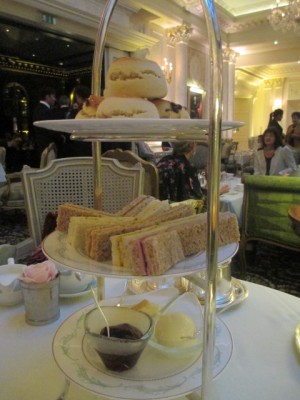 Just a sampling of some of our goodies.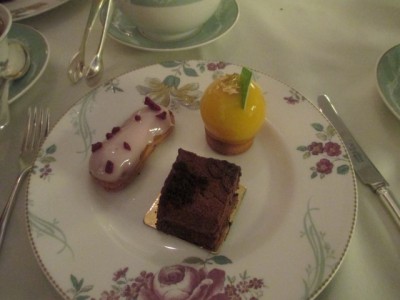 Now isn't that just elegant?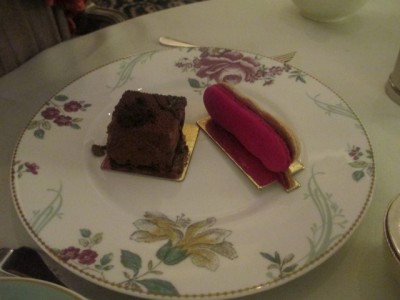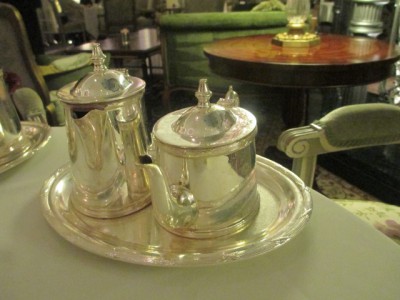 The tea was delicious.  We asked our server what she recommended and I chose the vanilla tea.  Before we left I purchased some to take home.  I still have some left.  I use it sparingly.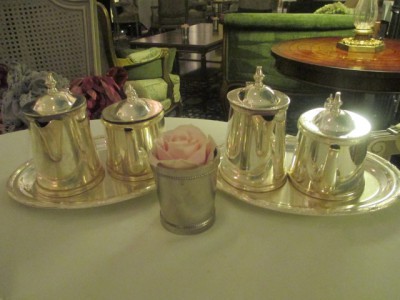 The other tea pot was Nicole's.  I don't remember what she had.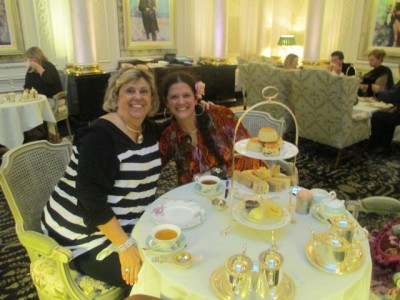 Two happy ladies that had their dream come true.  Before we left we went and checked out the ladies room.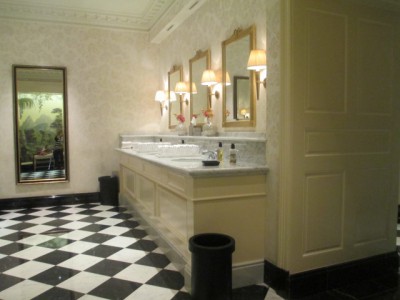 It was amazing!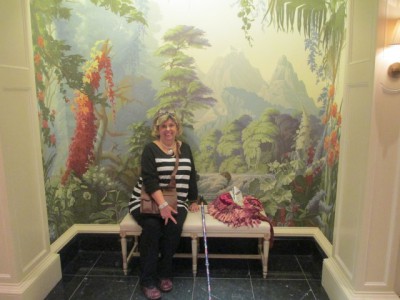 Look at that mural in back of me.  This was only one part of the ladies room.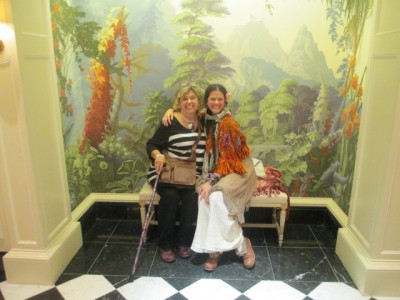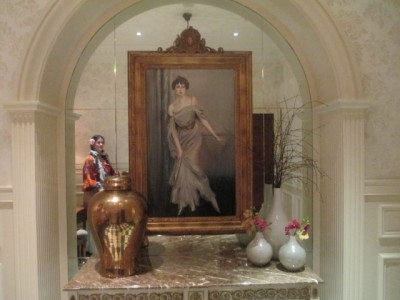 I love this picture.  As I was taking the picture, Nicole stepped into the shot.  I love how she is looking at the painting.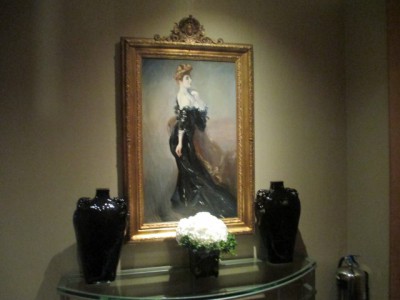 Another lovely painting.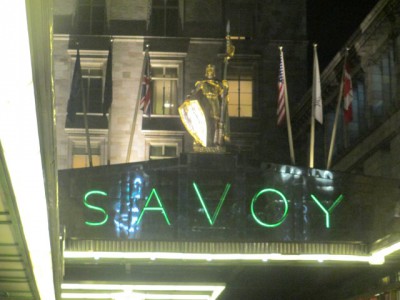 When we left the sun had set and the sign out side was more visible .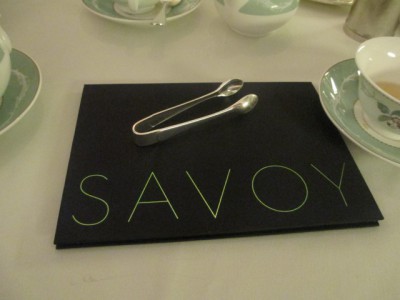 My first day in London was everything I expected and more.  Couldn't wait to see what was in store for the next two weeks.
If it takes me this long to write about my first day, I don't know how I can cover the next two weeks.
Blessing!