I can't believe it's been one year since I have posted anything on my blog!  Shame on me!  I am going to try and catch up by posting a few pictures that were taken each month of last year.  I hope I remember how to do this.  So, here goes!
Went to Flying Cloud Farm to pick some beautiful flowers for the house.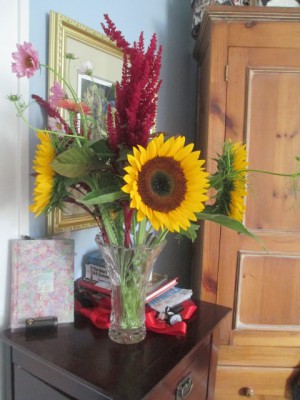 Flowers for the bedroom.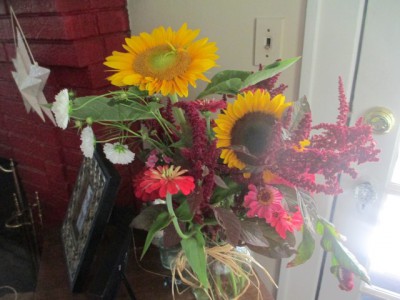 Flowers for the living room.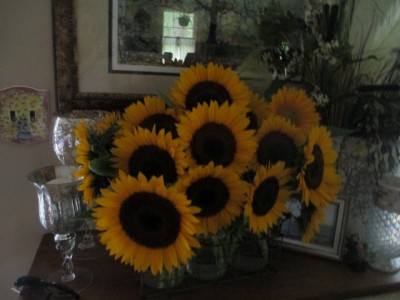 More flowers for the living room.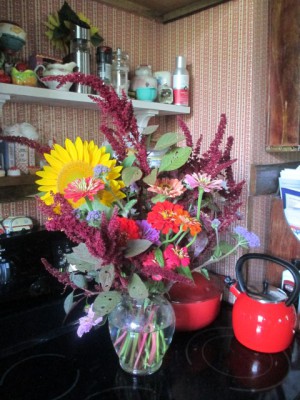 Flowers for the kitchen and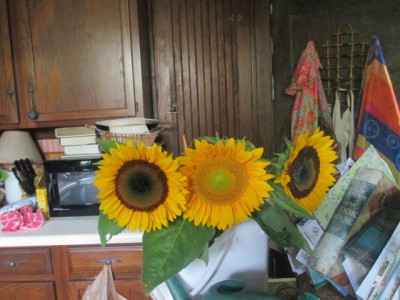 more flowers for the kitchen.  All these sunflowers just cost around $10.  Very cheap way for decorating your home!
In the beginning of August my sisters  and Peter came to visit for a week.  We went from Black Mountain to Lake Lure to Hendersonville to show them a good time.  When you view the pictures, it looks like the only thing we did for a week was eat.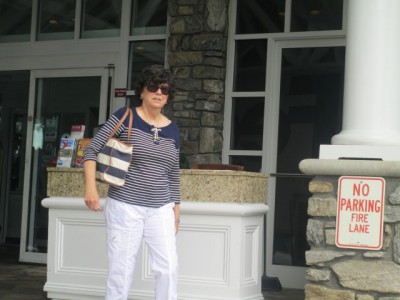 Jeannie leaving the hotel for our daily adventures.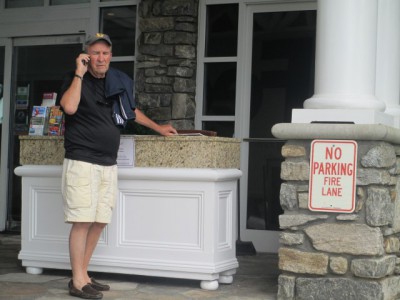 Peter leaving the hotel with his phone.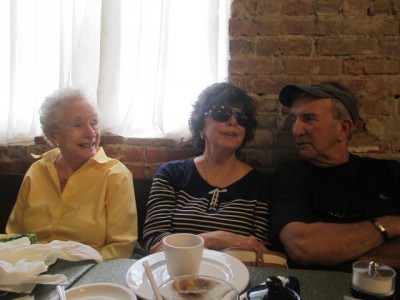 Lunch in Black Mountain with Allison.
Jeannie and Pudi shopping in Black Mountain.  We went to a wonderful card store where Jeannie spent as much as the woman makes in a day.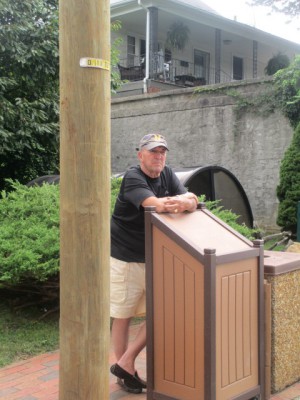 Pete being thoughtful as we shopped.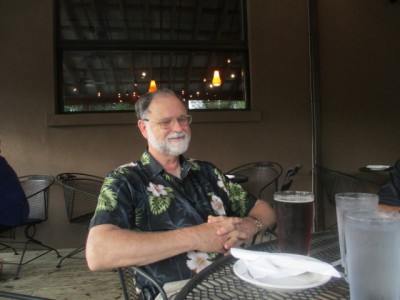 One night for dinner we went to our favorite Italian restaurant, Nona Mia's.  Jeannie, Peter and Pudi loved it. Buddy and  his beer.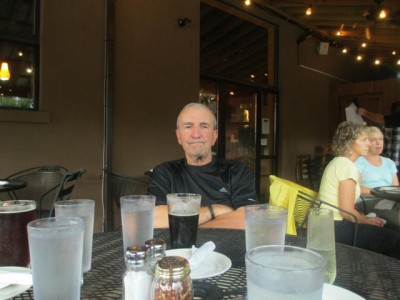 Pete enjoying his beer, also.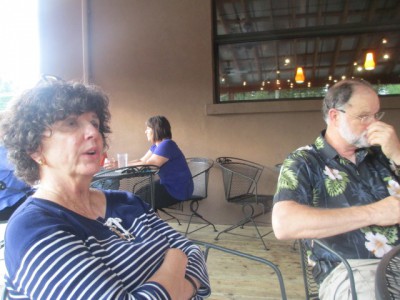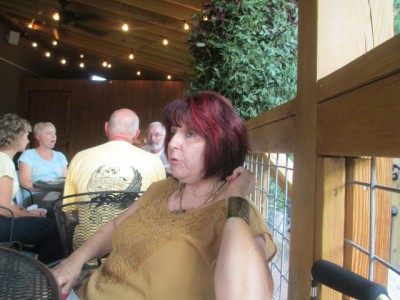 Pudi and her beautiful red hair.  Love it!
The next day we went to Lake Lure.  We were going to take the boat around the lake, however, it was pouring rain.  We went to Larkins to have lunch.  Larkins is right on the water.  We ate outside under the covering and still could see the lake.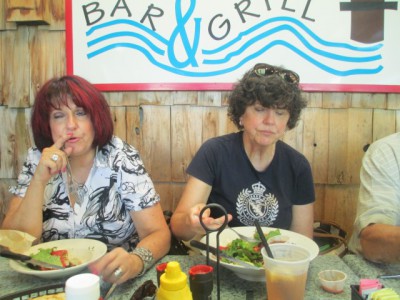 Salads for all.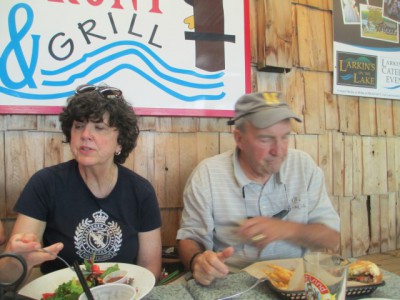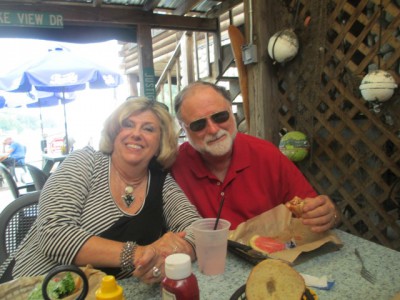 Peter really hates cats.  So my Faith was determined to make him like her.  She followed him everywhere and always found his lap.  While eating dinner one night, Peter put his hat on the floor next to him.  Faith sat on it through the entire meal.  I think she may have changed his mind about cats.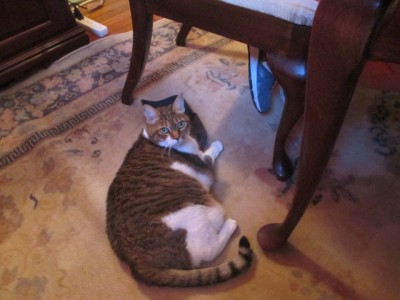 While Jeannie, Pete and Pudi were here Pati and Joe came up from South Carolina to visit.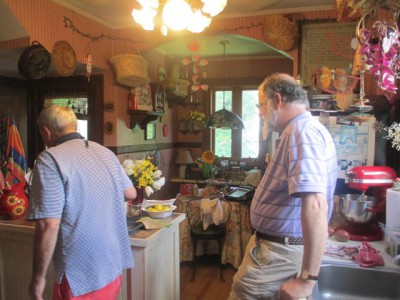 The men in the kitchen preparing lunch.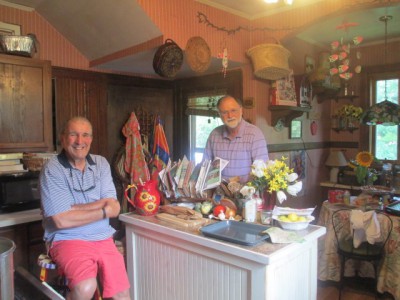 Taking a break from their hard work.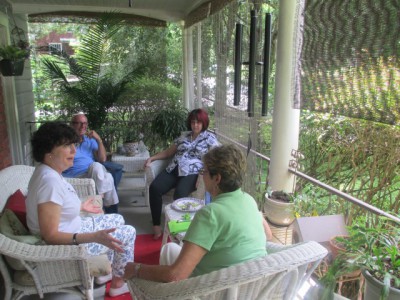 Jeannie, Joe, Pudi, and Patti on my porch.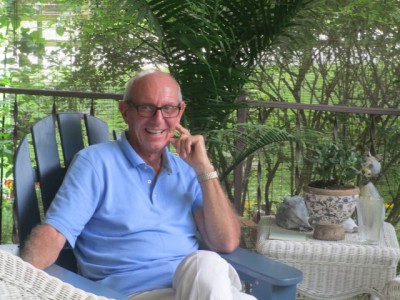 My wonderful cousin, Joe!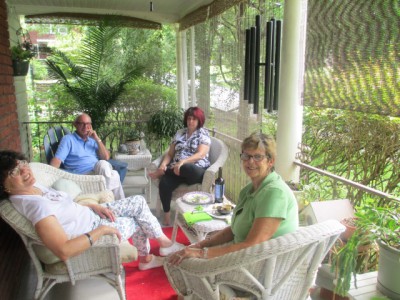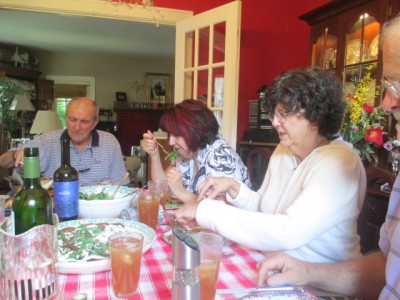 Eating, again.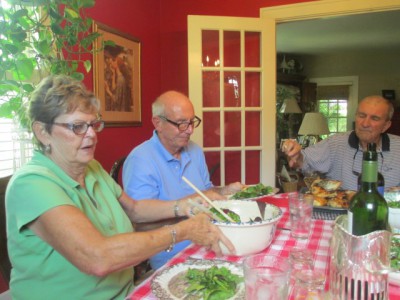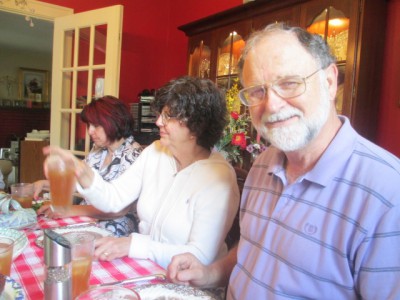 The next day was Biltmore Estate.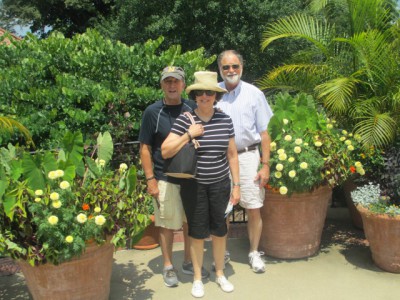 Jeannie looks like an old farm hand in this picture!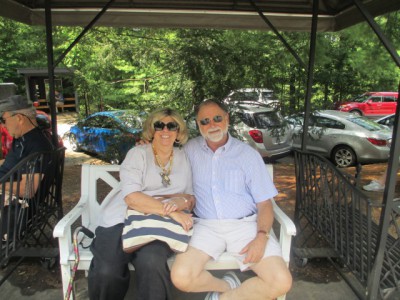 Waiting for the bus to take us from the parking lot to the house.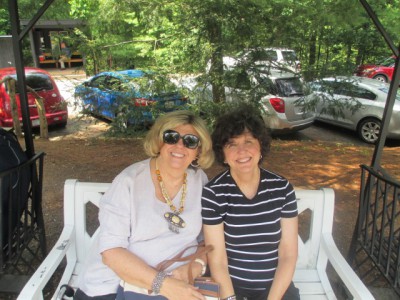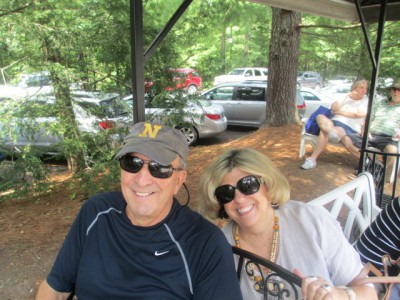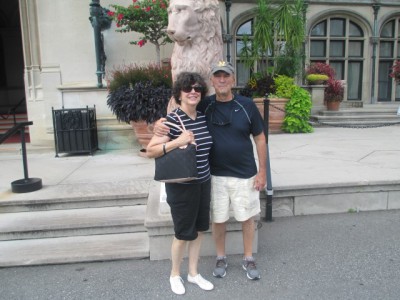 Jeannie and Pete in front of the house.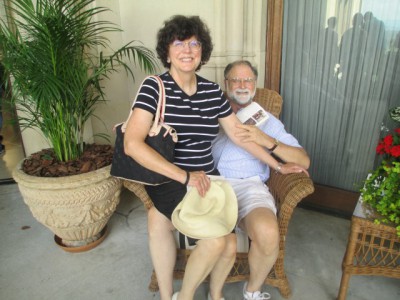 Taking a break from all the walking.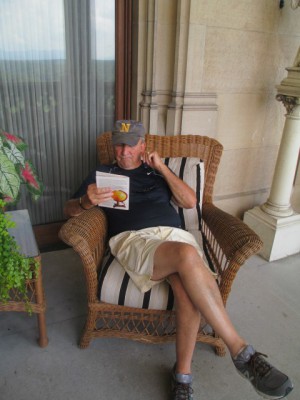 Pete resting and reading up about the Biltmore House.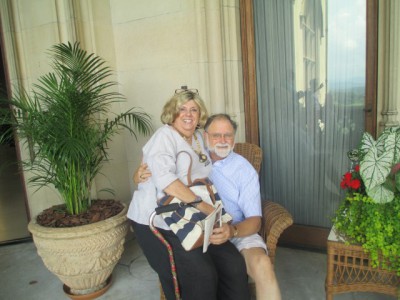 Me and my favorite man.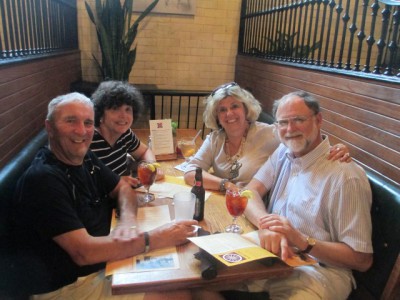 After touring the house, we went to the Stable Restaurant for lunch.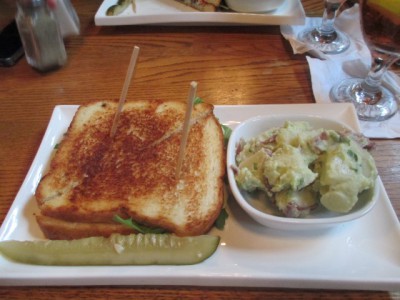 Yummy!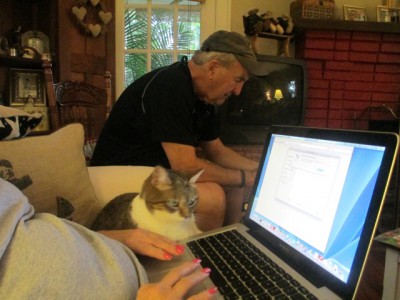 When we got home we found that Faith had kept Pudi company so she wouldn't be all alone.  She is such a sweetie.
Next day was Hendersonville.  We walked the streets and did some shopping.  Afterwards, we went to Mike's on Main for lunch.  It is an old fashion drugstore with a lunch counter and tables.  The food is very good.  When I am in Hendersonville and want a quick lunch, it's Mike's.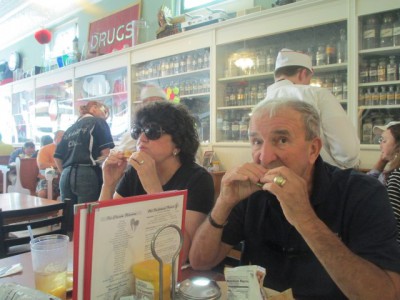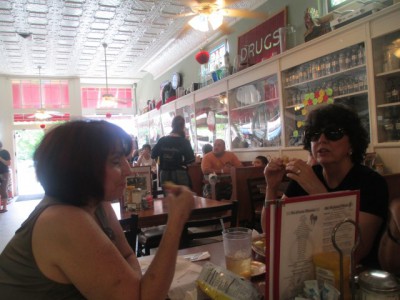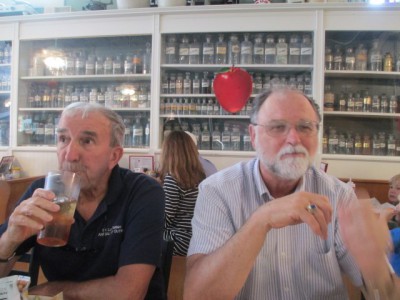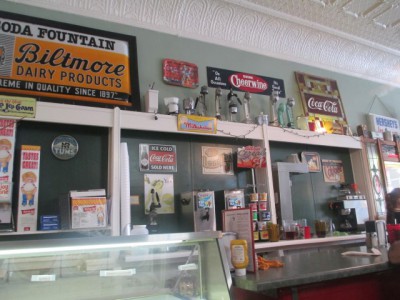 Love the decor!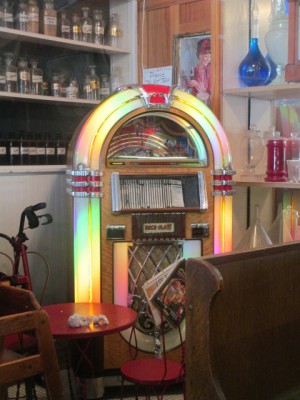 And a juke box that really works.
Jeannie, Peter and Pudi left and it was so quiet around here for a long time.  I really miss my family.  I wish we all lived in the same town like we did growing up.  All my aunts, uncles, grandparents and cousins lived in the same town.  That was really family life.
I will try to catch up some more later, but now I have to go down and work on my kitchen.  Wait to you hear about that!
Blessings!