We were spending the night in York so we all got back on the bus and headed to our hotel .Urick had already put our suitcases in our hotel room and Rob had our room keys ready for us, so we went straight to the pub.  I sat at a table with Nicole, Sandy, Curt, Rosie and three others.  Most of us had fish and chips.  Great food!  I ordered pear cider because that was what Susan Branch talked about in her book.  Four others thought that was a good idea and they followed suit.  For dessert I had a brownie sundae.  It was amazing!  I just love the whipped cream in England.
When we got back to the hotel I took a shower and Nicole hunted for some ice.  No ice machines!!  The bar brought up a pitcher of ice for my knee.  My knee looked like I had elephantiasis.  Very big and very swollen  By the time I got into bed, Nicole was already asleep.  No surprise there.
We got to sleep in an extra 15 minutes the next morning.  We went to breakfast at 7:15am.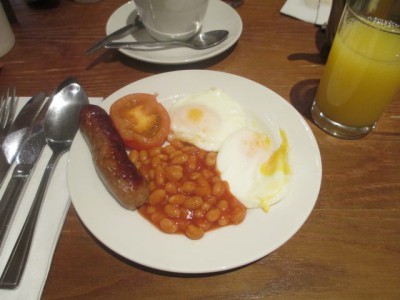 This is a typical English breakfast.  Not for me.  Too much food so early in the morning.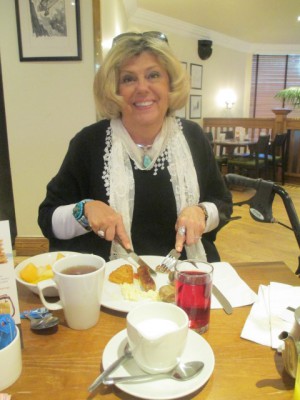 Breakfast was good.  They had everything from soup to nuts.
After breakfast we got on the bus and headed to Durham. Durham is the first major northeastern town on the main road up from London.  Yesterday we saw the largest Gothic cathedral in England, today we went to the Durham Cathedral in Durham.  It's a Norman masterpiece in the heart of the city.    Durham has cobblestone streets and the towering cathedral make it a unique city.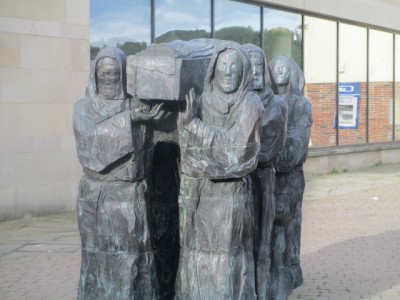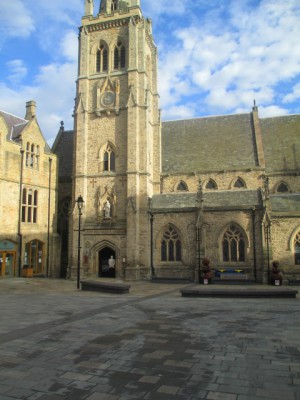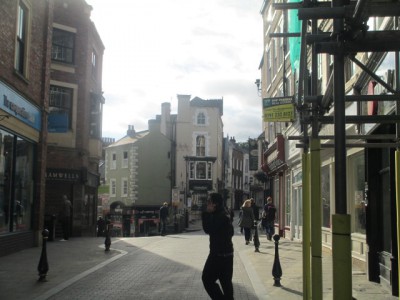 Quaint streets.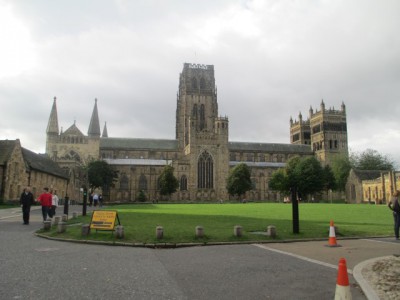 The Durham Cathedral.  As soon as we arrived in the city, the bells began to chime.  What a beautiful sound.  Construction began about 1090 and the main body finished about 1150.  Upon entering the cathedral, it's impossible not to notice the enormous bronze Sanctuary Knocker.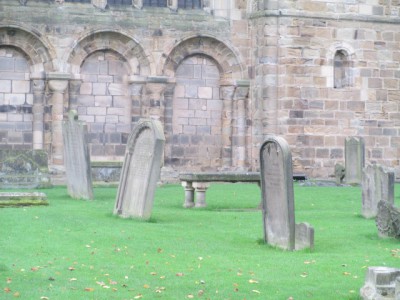 I love to look at old grave yards and read the headstones.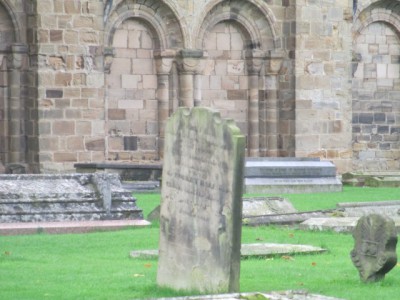 Some stones were just too old to read.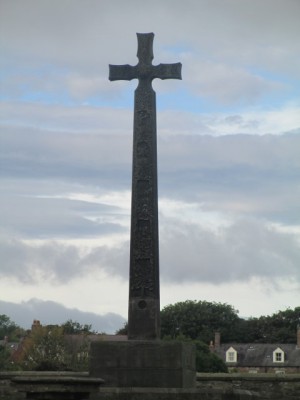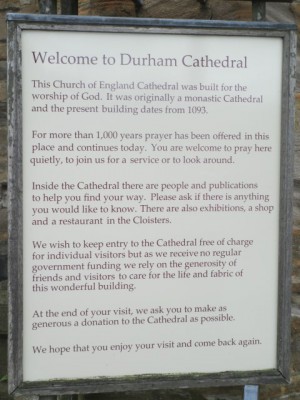 The sign out side of the cathedral.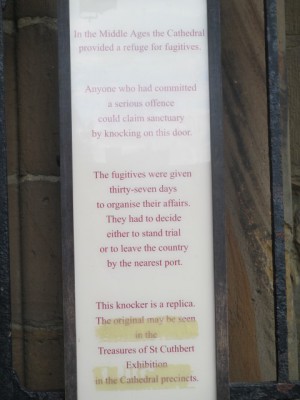 This, I thought, was very interesting.  One only had to use the knocker on this door and they would be granted sanctuary for 31 days.  The knocker is not the original but a replica.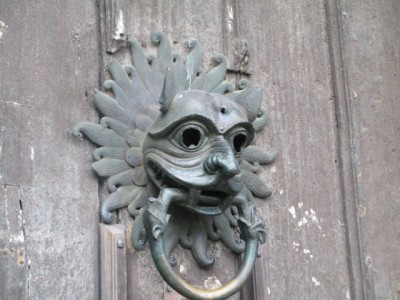 Maybe I should get one for my front door.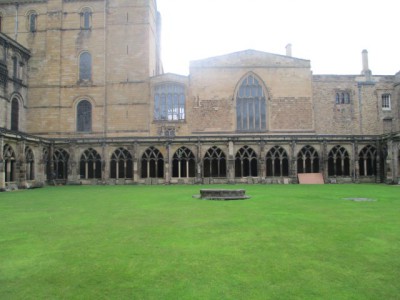 Side of the cathedral.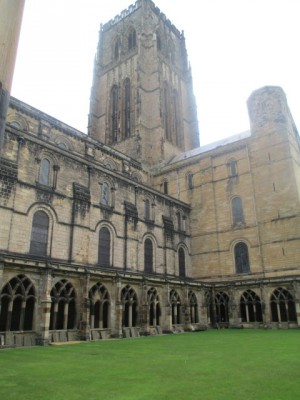 Beautiful old stone work.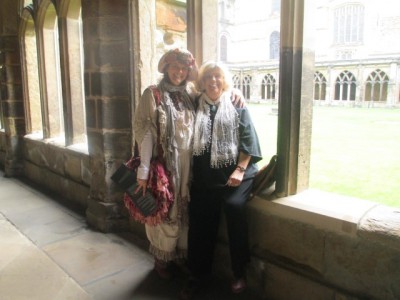 The two of us.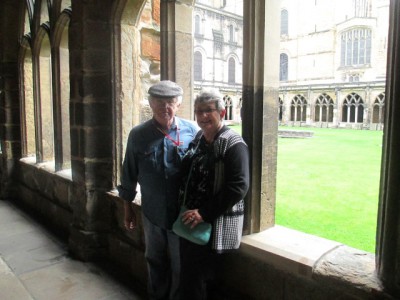 Fellow North Carolina travelers.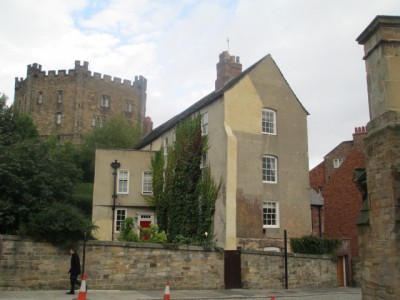 The next pictures are parts of the city.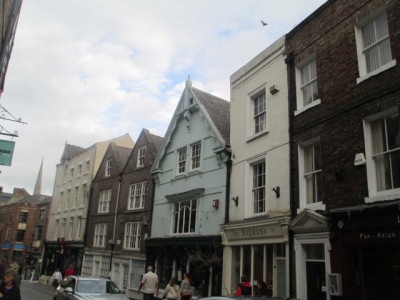 I tried to capture the quaintness of the city.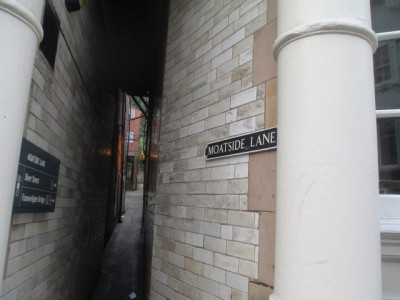 Try and pass through that street!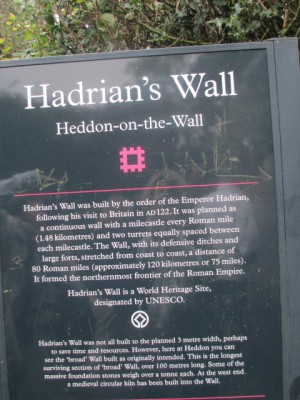 After leaving Durham we headed to Hadrian's Wall.  The wall winds through the wild and windswept Northumberland countryside. Hadrian's Wall is Britain's most important Roman relic.  It once formed the northern frontier of the Roman Empire, its most remote outpost and first line of defense against raiders from the north.  Even today, as a ruin, the wall is an awe=inspiring structure.  It is 73 miles long.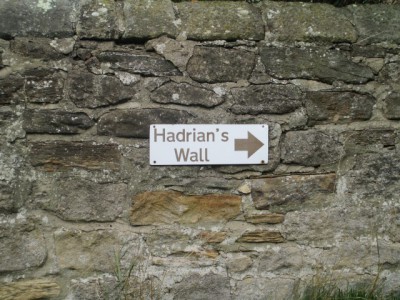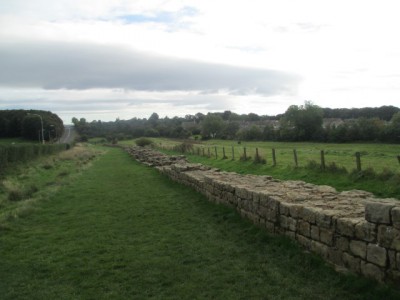 The wall.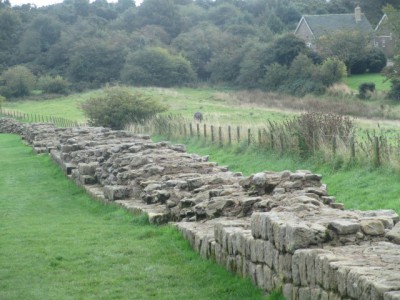 As you can see, parts of the wall are in ruins.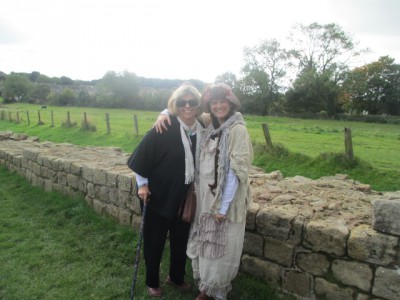 In front of Hadrian's Wall.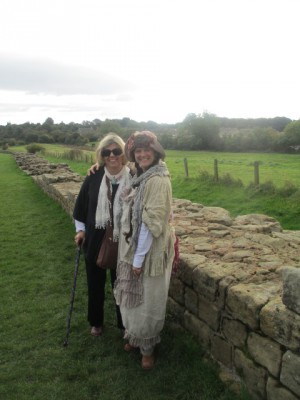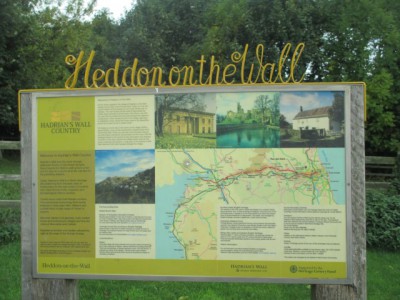 A map that show where the wall extends.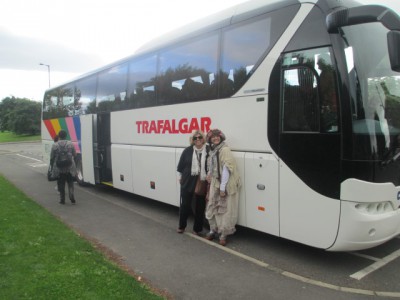 We got back on the bus and headed for some lunch.  It wasn't a very good meal.  Some sort of soup with a half of an egg salad sandwich and half of a ham and cuke sandwich.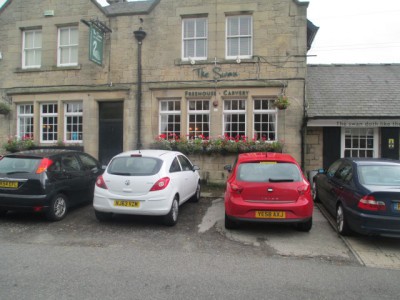 Place where we ate lunch.
We finished lunch and went across the street to St. Andrew"s Church.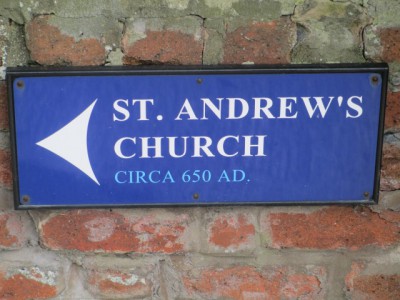 It is an ancient parish chruch.  Some of the building was erected about 600 AD when Northumbria was a separate kingdom  It is a darling old church.  There were no kneelers in   the church so the parishioners made individual needlepoint pillows for each pew.  I took several pictures of the beautiful needlepoint pillows.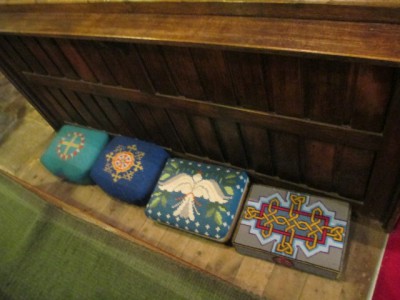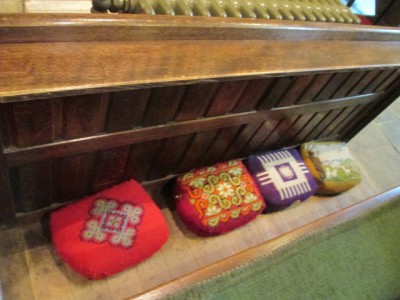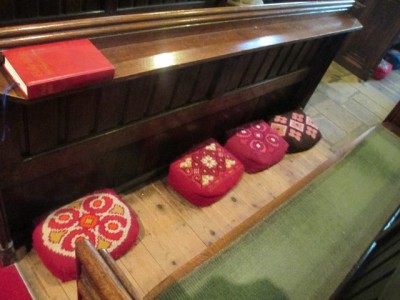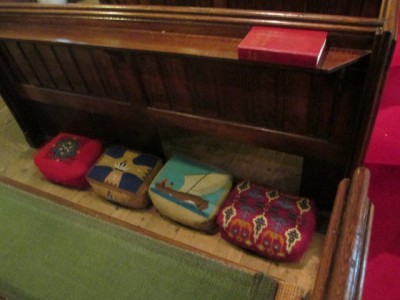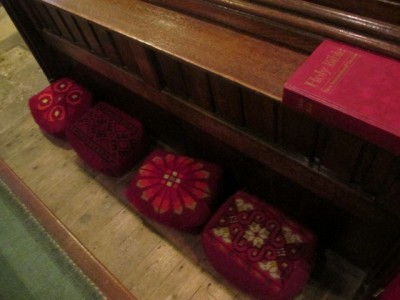 They also had some pretty quits in the church.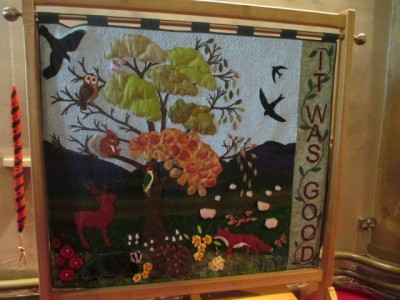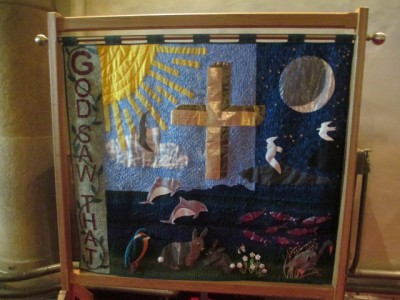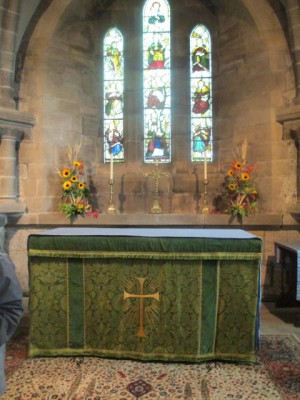 The alter in St Andrew's Church.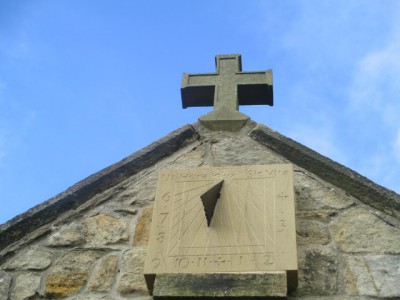 Sundial on top of church.
I love old grave yards.  Some of the stones in this grave yard went back over a thousand years.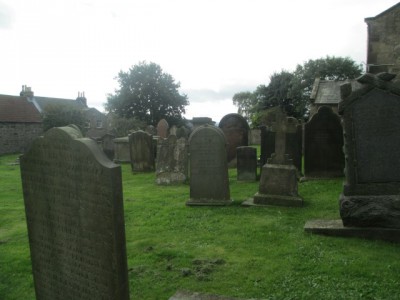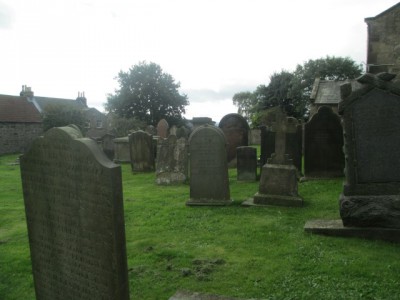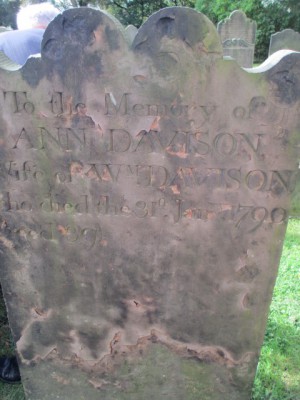 Very difficult to read.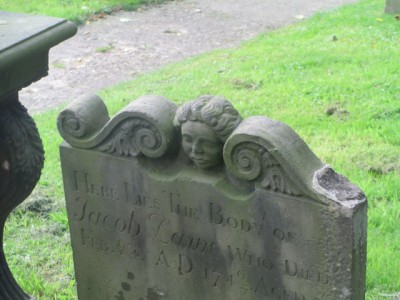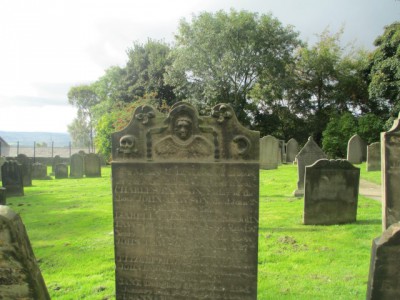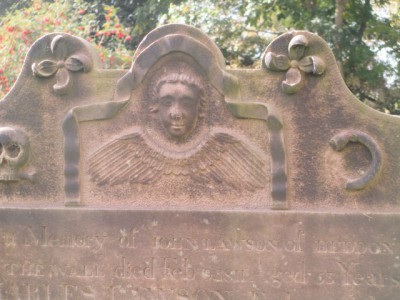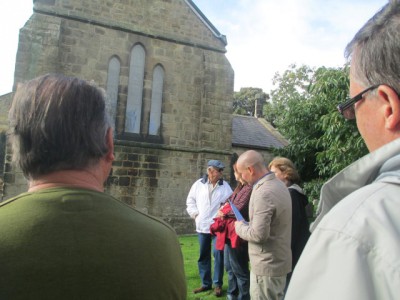 Rob (with the bald head) giving us some info on the church.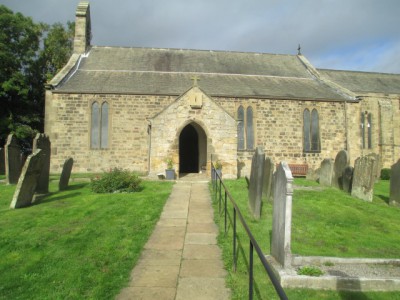 Front of St Andrew's.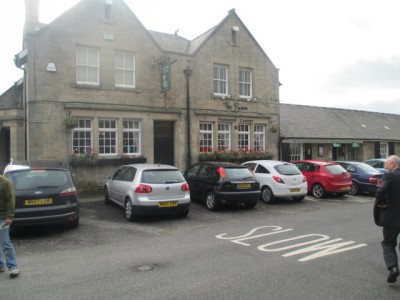 After touring St Andrew's we got on the bus and headed to Scotland.  That I will save for another day.  I fell in love with Scotland and would love to go back some day.  I really don't know which I love more, Ireland or Scotland.
Until next time,
Blessings!