Back in July, Nicole flew home for my birthday.  What made it even more special, Chuck flew home, also.  What a wonderful birthday present.  Now if that wasn't enough, Nicole, Chuck and Buddy all bought me a new computer.  It's the Mack Daddy of all computers!  I was just getting use to my old one (7 years oldd), and now I have to learn things all over again.  I'm not a computer literate person.  My darling Chuck worked his entire time home on getting it up and running.  Bless  his heart.  Chuck then proceeded to give me a Nexus 7.  I never heard of it before.  He is dragging me into the 21st century whether I like it or not.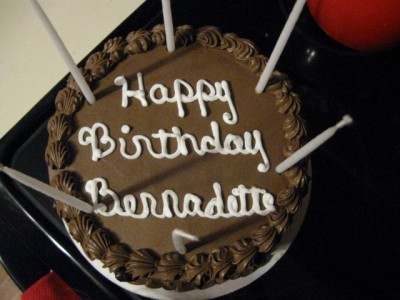 Buddy bought a wonderful birthday cake!  I told him it had to be chocolate and had to have butter cream frosting.  He bought it at a small bakery in Hendersonville.  It was yummy!!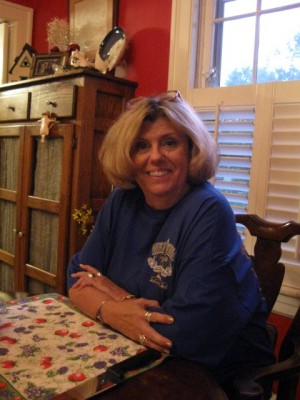 I am most happy to be celebrating this year.  I have so much to be thankful for.  Now, do I look happy or what?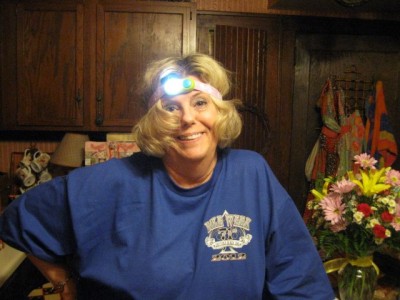 I took a bad fall in the beginning of July.  I got up in the night to go to the bathroom and I stepped on one of my cats.  It was a nasty fall.  Bruises on my body and a lump on my head.  So, for my birthday, Kelly, Buddy's daughter bought me a head light.  Cute, huh?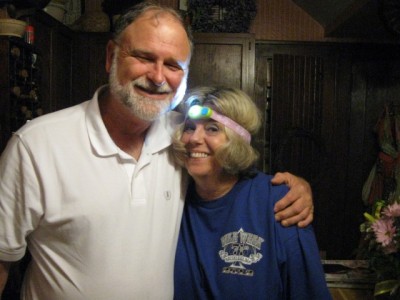 Buddy hopes that I wear it when I get up in the night.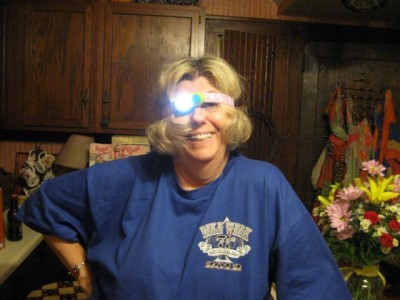 Here I look like a cyclops with it over one eye.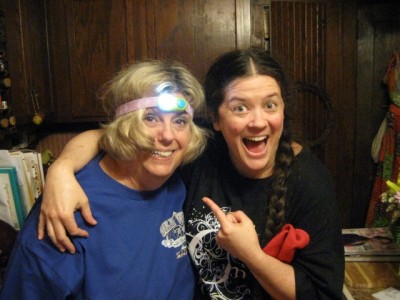 As you can see, Nicole is just thrilled that I have it and won't break my fool neck.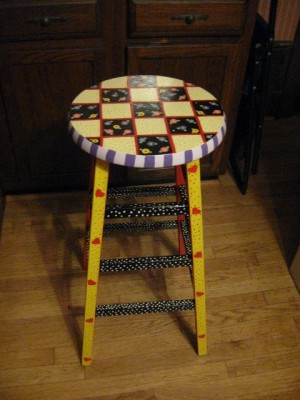 I know this picture doesn't fit in here, but it was taken the same time as my BD pictures.  It's my finished stool.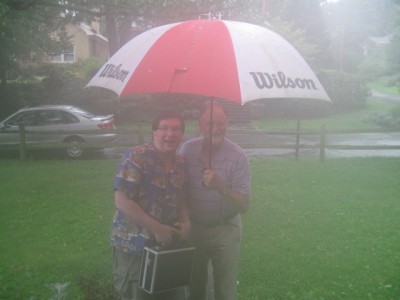 Nicole and Chuck really only wanted to do one thing while they were here.  (I planned so much more).  They wanted to go on the Parkway and go swimming.  The water is too warm in AZ for them to really enjoy swimming.  When we headed out, it was raining, but that did not discourage them.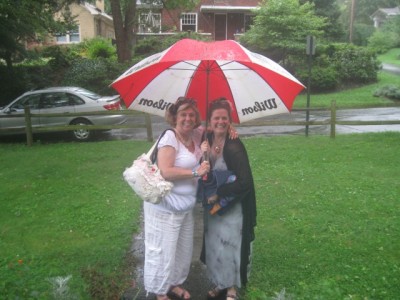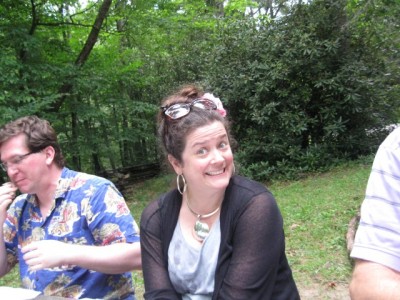 I packed a picnic lunch and we were off.  When Nicole was growing up, we went on picnics almost every weekend.  They are so much fun.  Food just seems to taste better outdoors.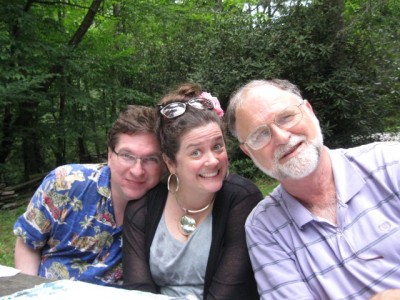 My family enjoying the picnic.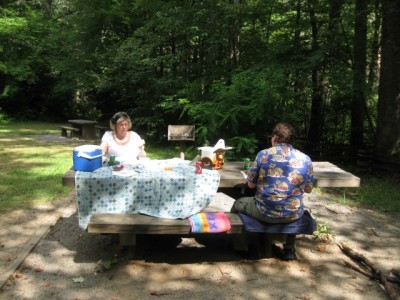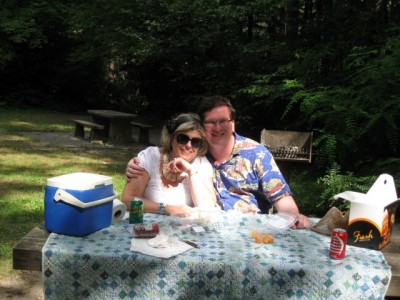 My precious son in law.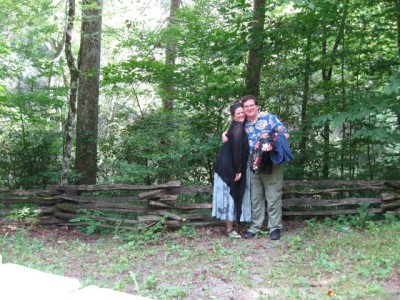 Nicole and Chuck getting ready to walk down to the river to swim.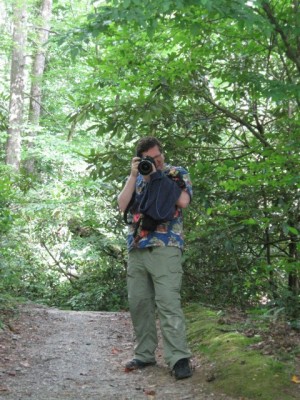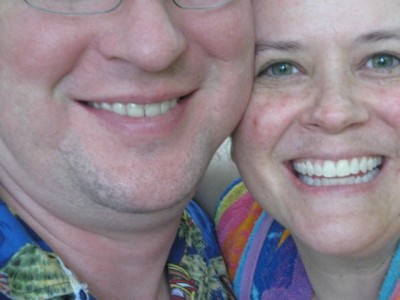 Great teeth!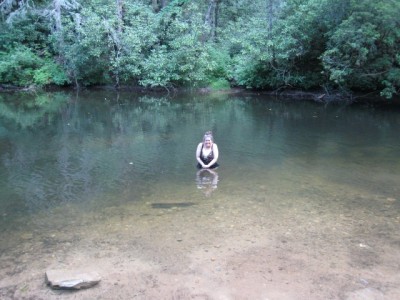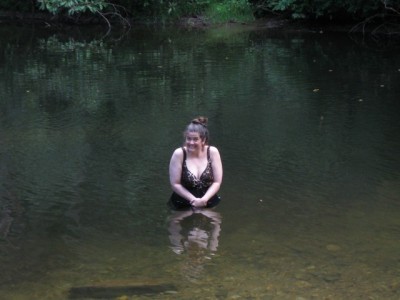 The water was ice cold, as mountain streams usually are.  It took Nicole and Chuck a while to get wet, but once they did, there was no getting them out.  We stayed for a couple of hours while they went swimming.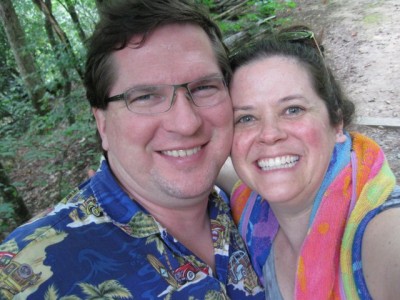 They were all smiles when they got out.  Either that, or their mouths are frozen in that shape.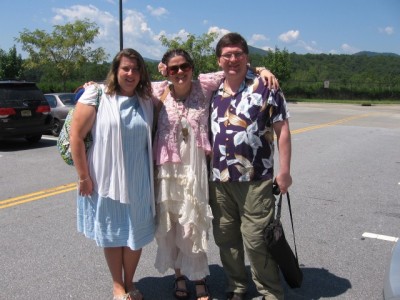 A real treat was when Nicole's best friend came to spend the weekend.  We were having a family reunion on Saturday, and Christine came along.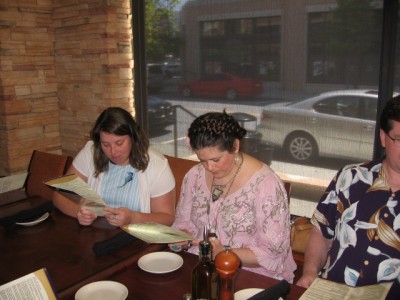 Nicole and Christine looking over the menu and trying to decide what to have for lunch.  A serious matter.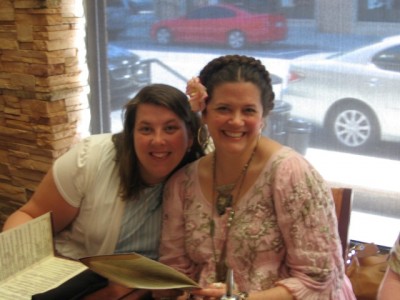 BFF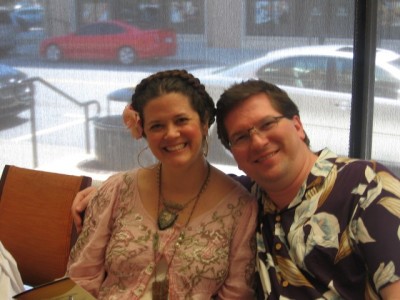 A cute couple.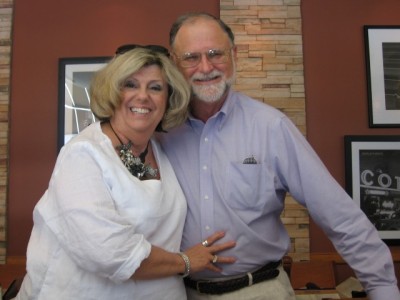 Another cute couple.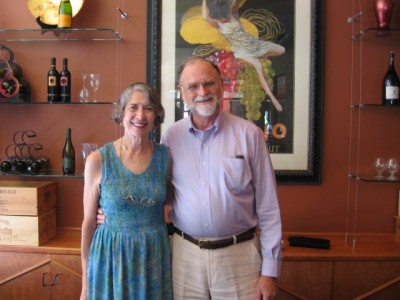 Buddy and Amelia, Richard's sister.  We had a wonderful turn out for our family reunion.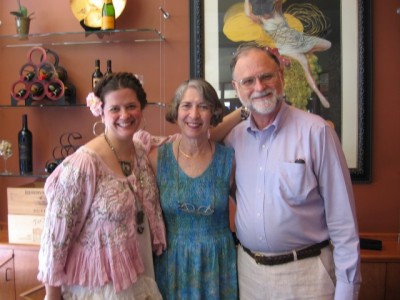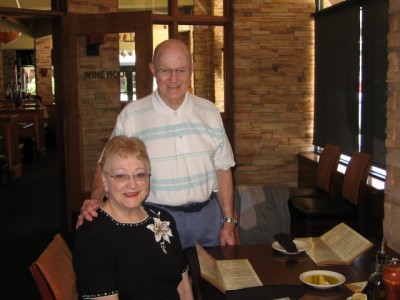 Here is Uncle John, the head of the family, and his wife, Martha.  It was John's birthday, so we had a cake and sang Happy Birthday.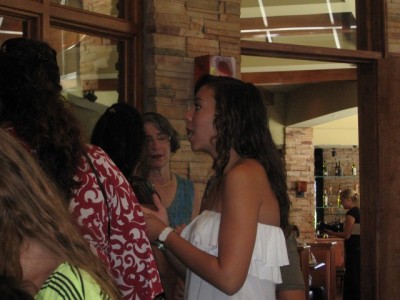 Cheli's oldest daughter.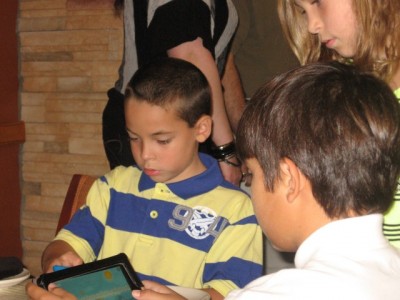 Cheli's son and Tracy's son.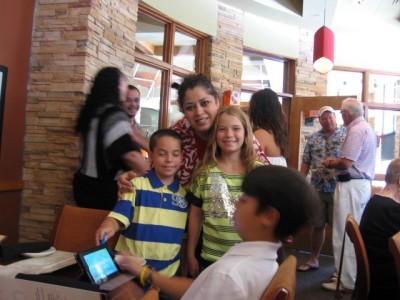 Tracy and her two children.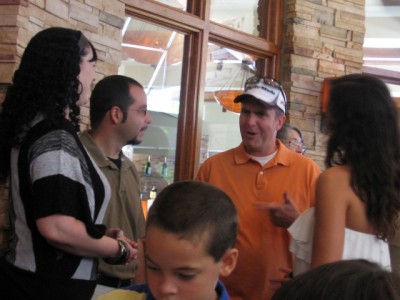 Herbie and his wife talking with Rodney.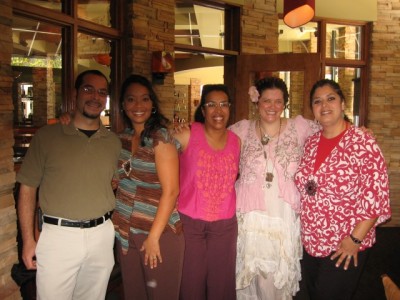 All the grand kids.  It was a wonderful surprise that Gigi flew in at the last minute.  Herbie, Cheli, Gigi, Nicole, and Tracy.  Chris and Amy could not make it to the reunion.  They were missed.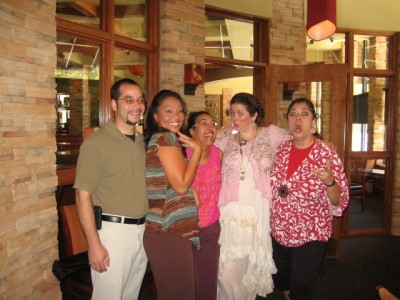 Clowning  a round.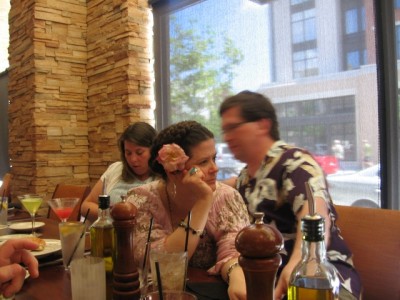 Very pensive.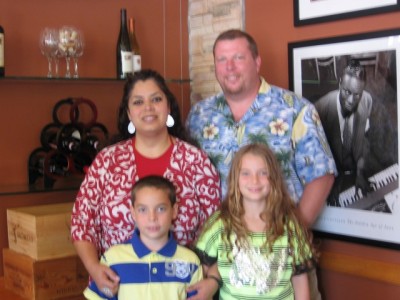 Tracy's family.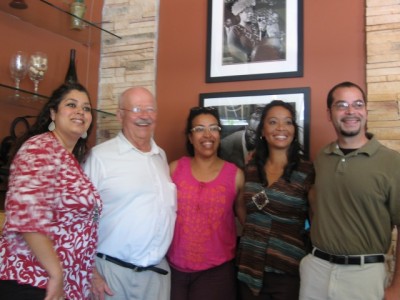 Herbert and his three children.  Tracy, Gigi, Cheli, and Herb.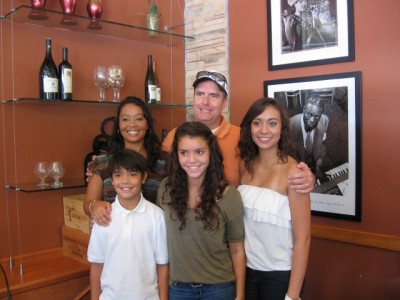 Cheli's family.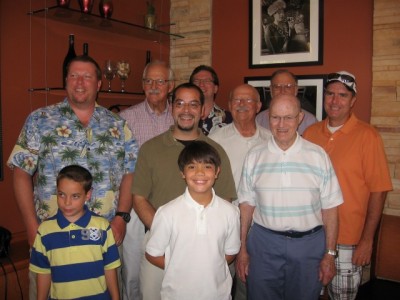 The Men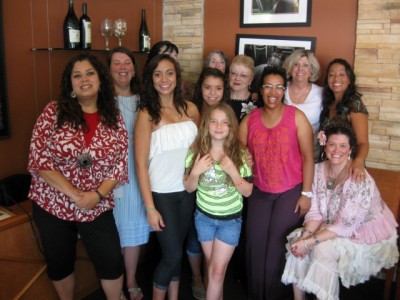 The Women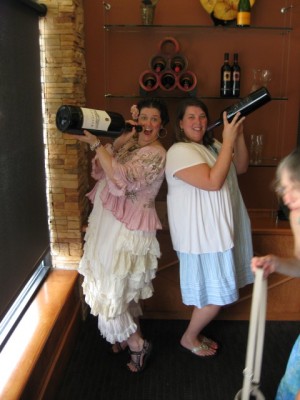 Nicole and Christine having a grand time.  It was so good to see family once again.  Richard's absence was truly felt.  He was always the life of any party, and oh, how he loved family.  All those who have gone before us, were truly missed.  They would have had a ball.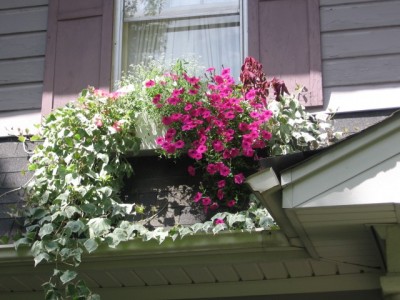 When I got home from the reunion, I had to take some pictures of my window boxes.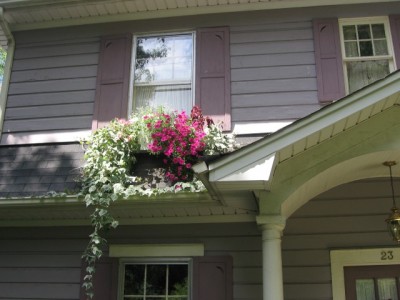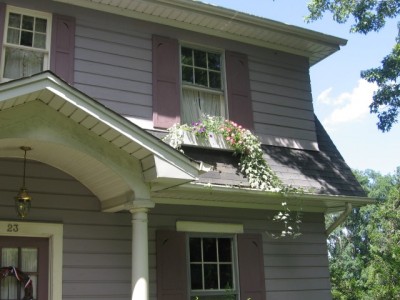 The window box on the right doesn't get as much sun, therefore, it's not as plush.  These pictures were taken in July.  Right now the vines are down to the first floor window.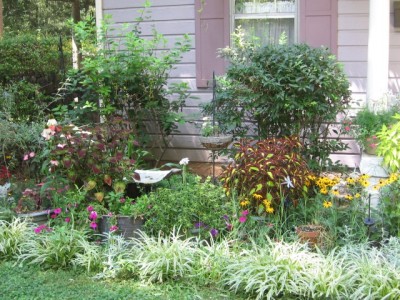 My garden in July.
Blessings!