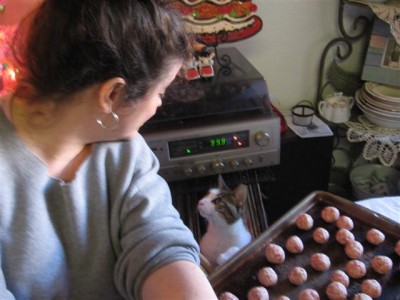 Nicole making our famous sausage balls for Christmas morning.  Scout was trying to help.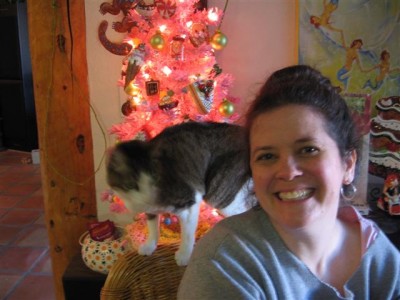 Scout checking things out.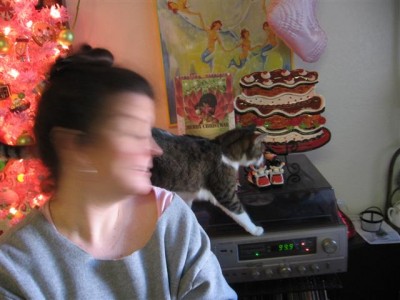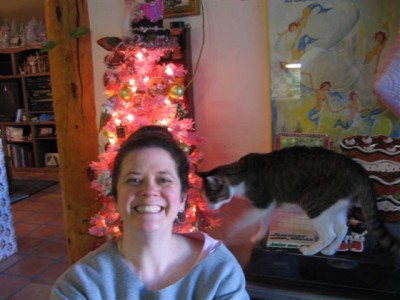 Scout is never far from Nicole.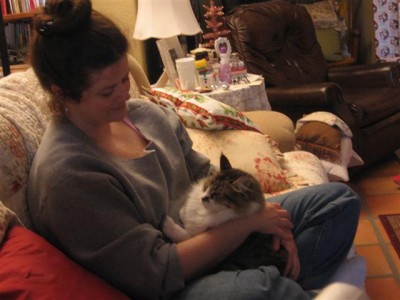 And here is Miss Kitty.  She is really a beautiful cat.  She is not as well behaved as Scout, but I really believes she tries to be good.  It's just so difficult to be in a house when one is use to running outdoors.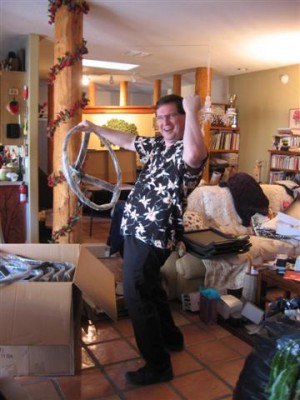 No, Chuck did not get a new steering wheel for Christmas.  That's the bottom part of the patio chair.  He's so dramatic!!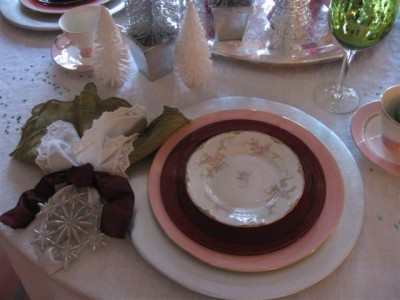 Nicole set a beautiful table for Christmas.  I wonder where she got her talent for  such things? 😉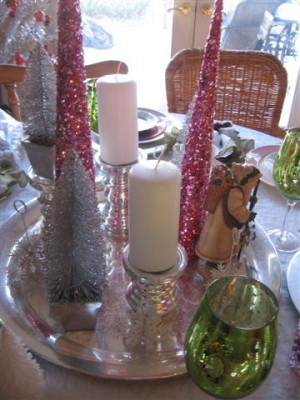 Picture of her center piece.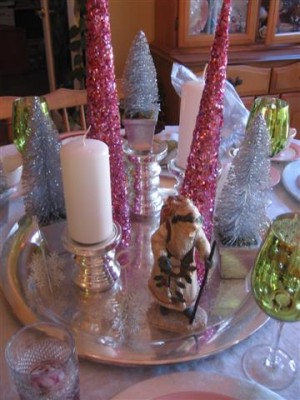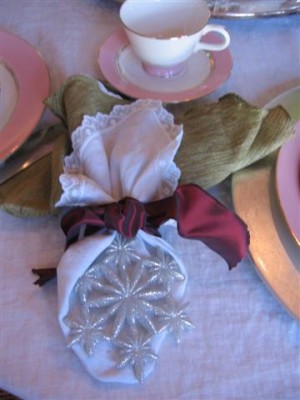 Very imaginative napkin rings!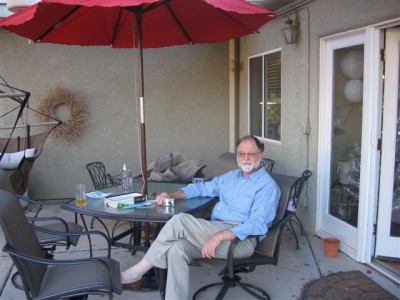 The best picture I have of the patio furniture Buddy and I gave them for Christmas.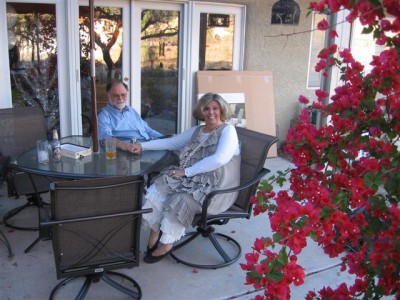 Buddy and I wait for dinner.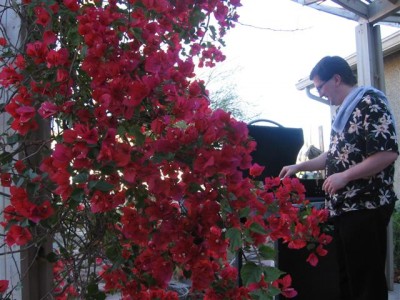 Chuck cooking the asparagus.  A great picture of their bougainvillea.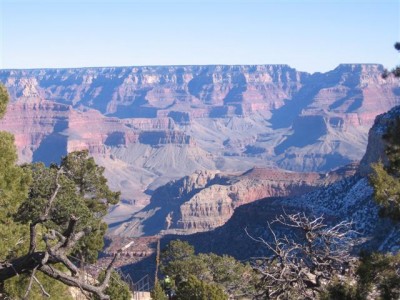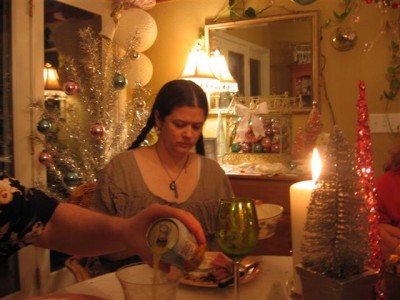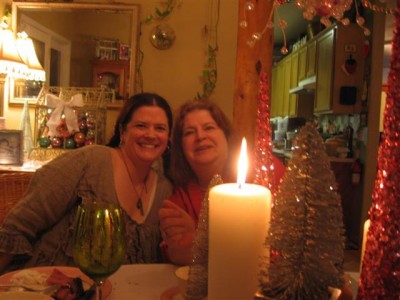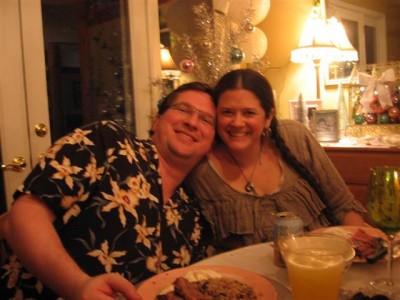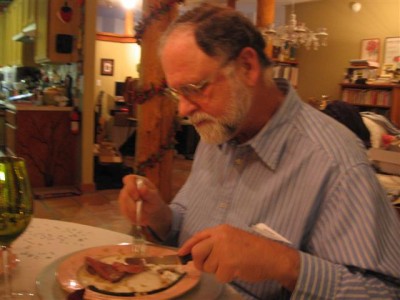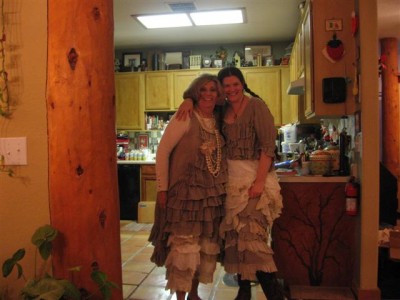 In our Magnolia Pearl.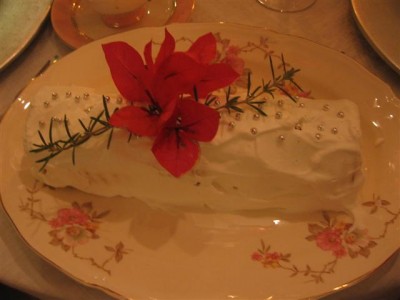 My mother's famous ice box cake for dessert.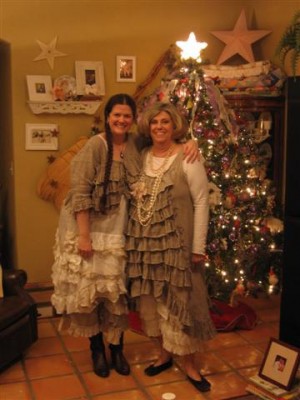 In front of the Christmas tree.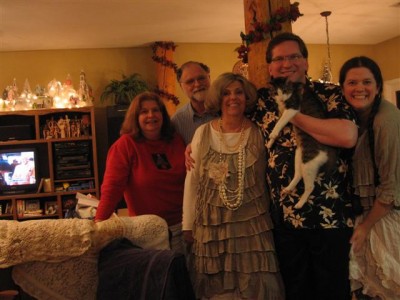 All together after dinner.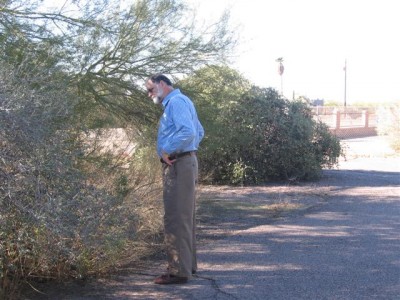 Buddy checking out the bushes ? before we leave for the Grand Canyon.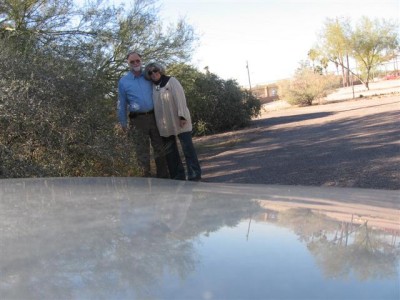 Standing in the drive way before we leave.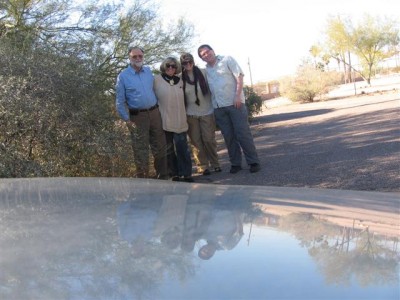 A picture of all of us right before we get in the car to leave.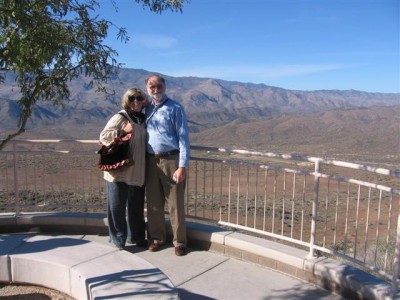 Buddy and I at one of the over looks on the way to Grand Canyon.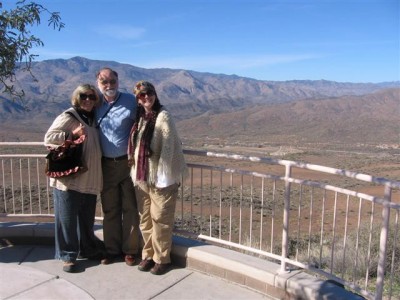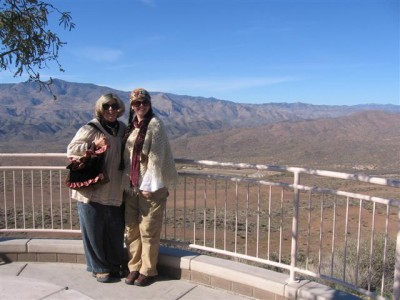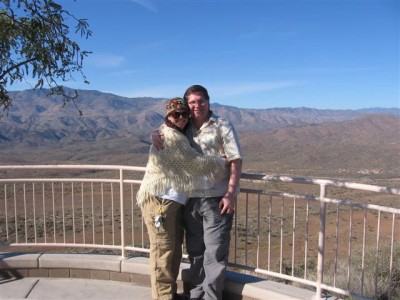 Nicole and Chuck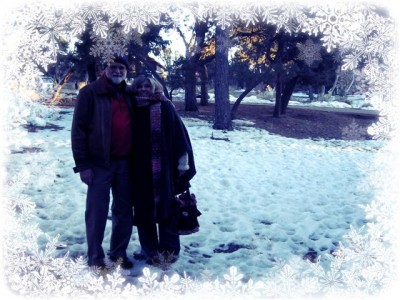 Buddy and I outside our cabin at the Canyon.  We had Snow!!  It was the only snow I have seen this winter.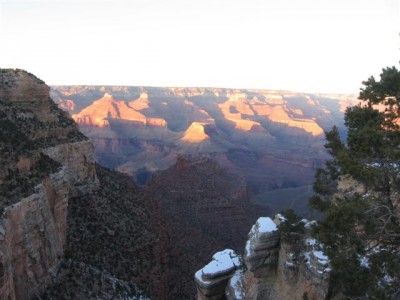 One of my favorite pictures in the canyon.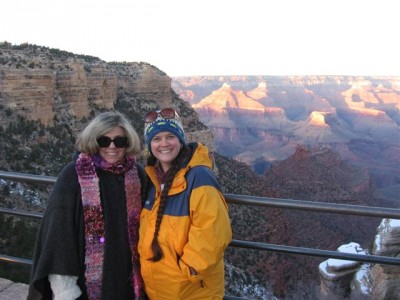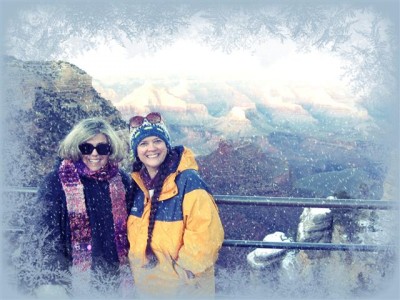 I love to play with Picsa.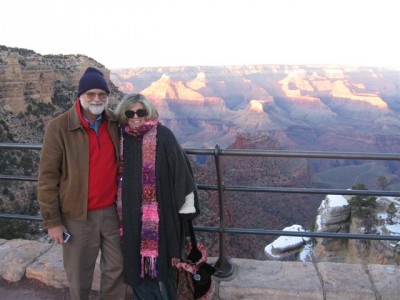 Me with Papa Smurf.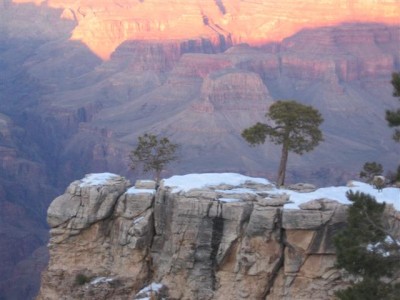 Another one of my favorite shots of the canyon.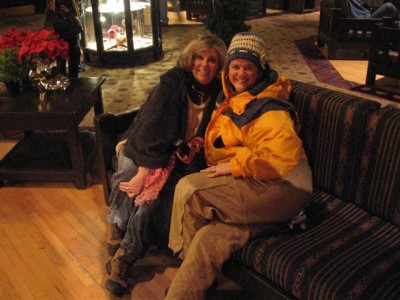 Wait for a table at the restaurant.  The lobby was beautiful.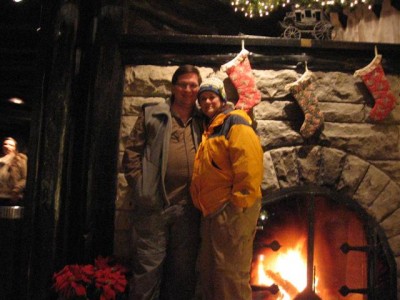 They had a roaring fire in the fireplace in the lobby.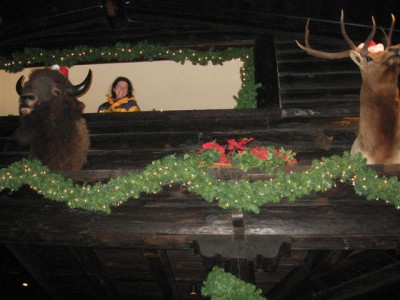 Nicole overlooking the lobby.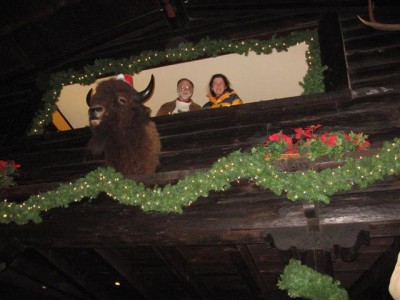 Buddy and Nicole looking over the lobby.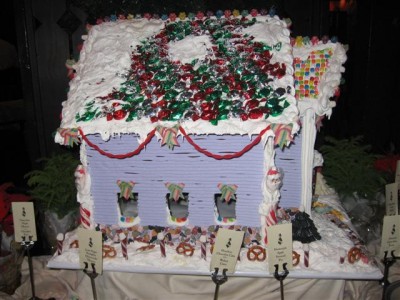 This was the candy house in the dining room.  They had all their desserts around the house.  Next picture is a picture of my dessert.  It was a chocolate mousse taco!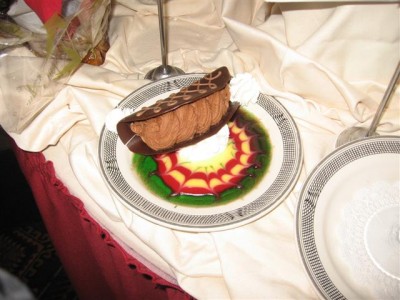 Who couldn't resist that?
Several pictures of the Grand Canyon.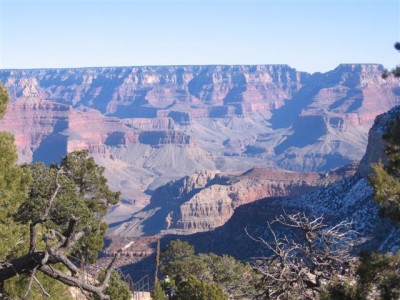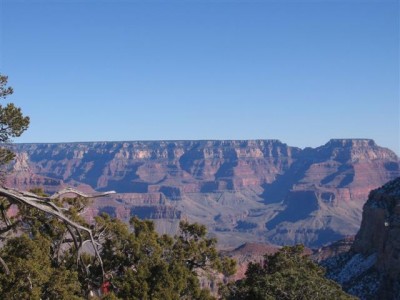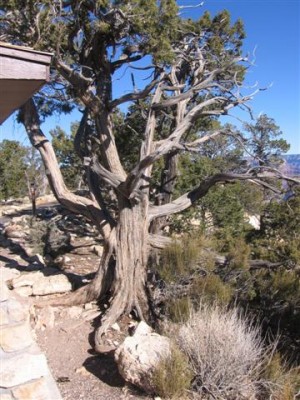 I fell in love with this tree.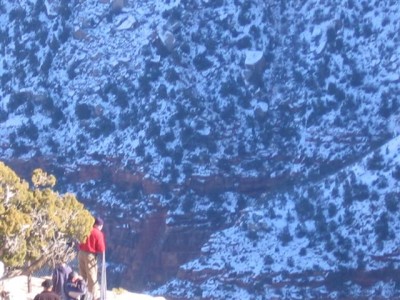 That's Papa Smurf way down there looking into the canyon.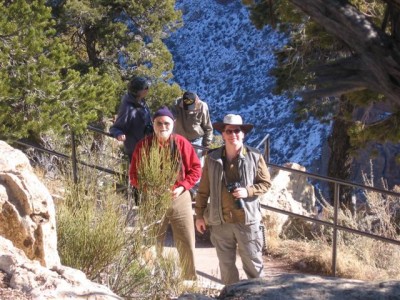 Papa Smurf and Chuck.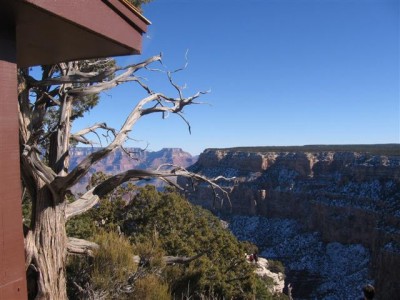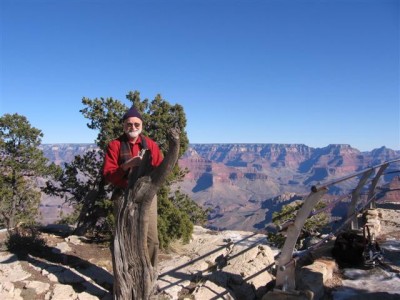 Papa Smurf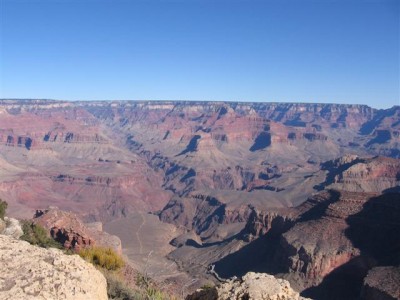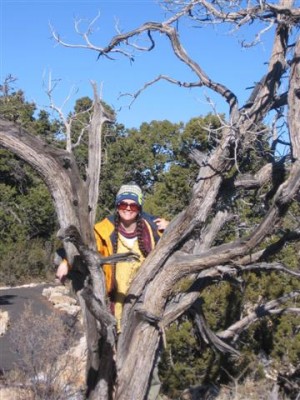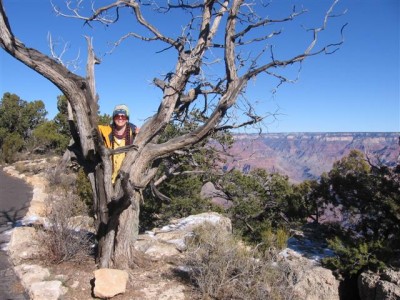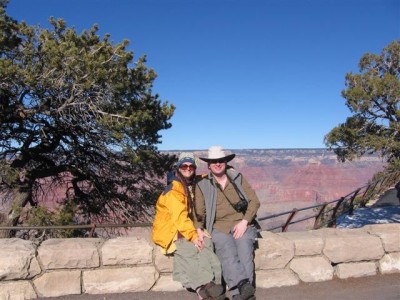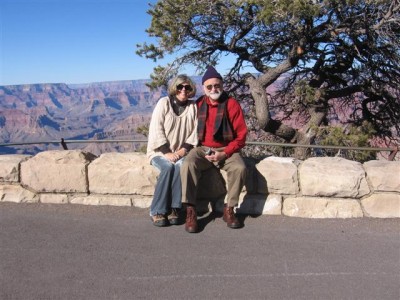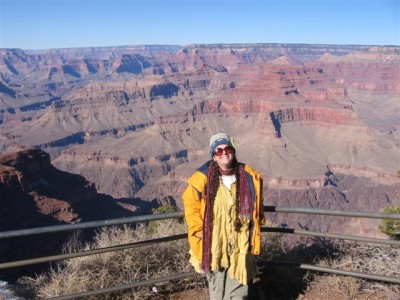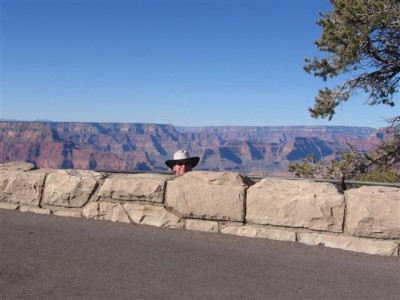 Oh, No!!  Man over the canyon!!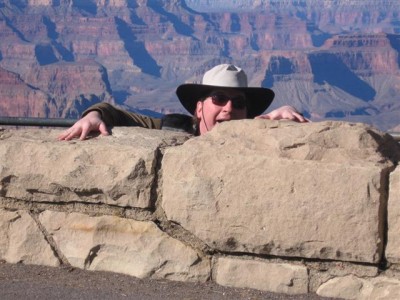 Too late!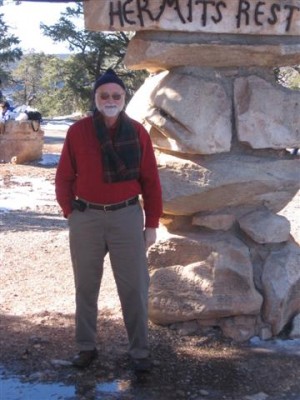 Papa Smurf at Hermit's Rest.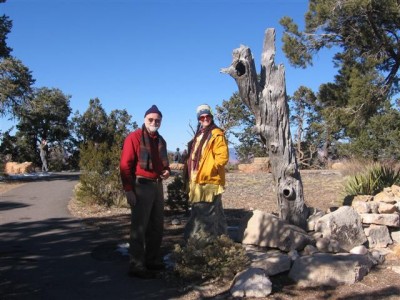 Nicole and Papa Smurf at Hermit's Rest.
After a wonderful time at the Grand Canyon, we headed south to Sedona.  Buddy had never been so we thought it would be fun to show him around.
Our first stop was at Garland's.  That's where I buy all my silver jewelry.  We looked around but decided not to buy any thing.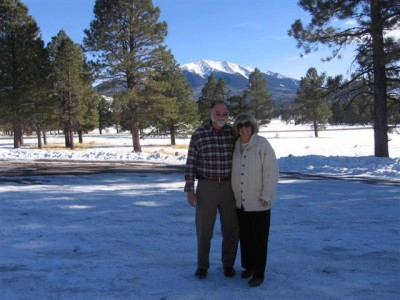 We took a back road to Sedona and the scenery was spectacular!!!  Look at the beautiful snow on the mountains.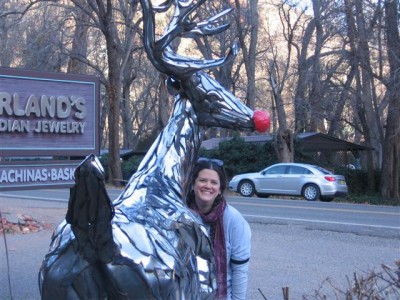 Nicole in front of Garland's.
The next three pictures are of the Three Stooges.  While I was out, they took these pictures with my camera.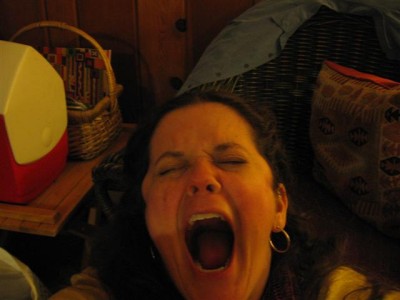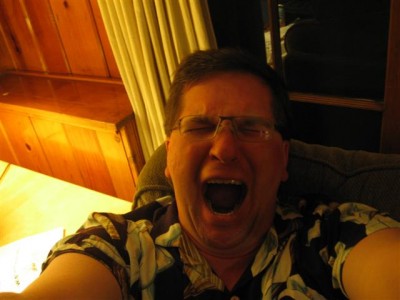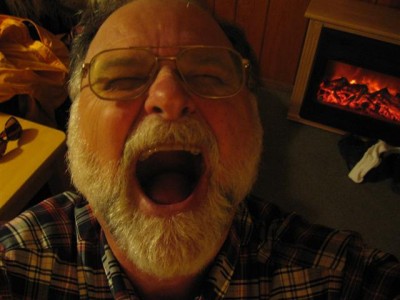 On our way home we stopped for a bite to eat.  The two Stooges entertained us.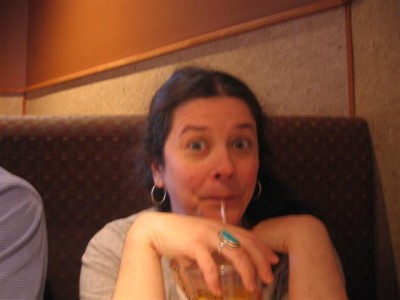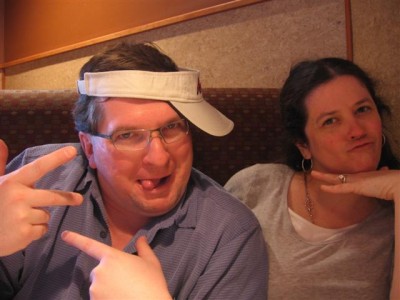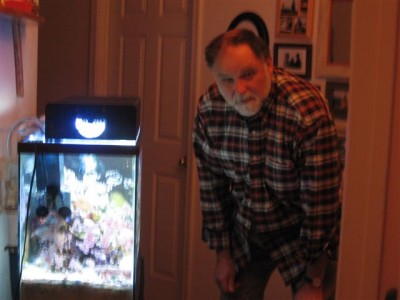 Papa Smurf is gone and Buddy is back.  He is loving Chuck's salt water tank.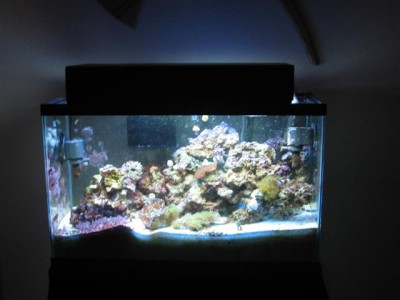 It really is very beautiful.  It is my favorite tank.  It sits right outside my bedroom door.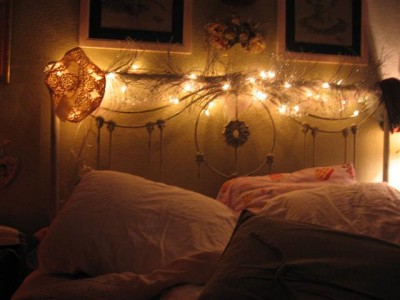 Nicole decorated our bed for Christmas.  It was so pretty.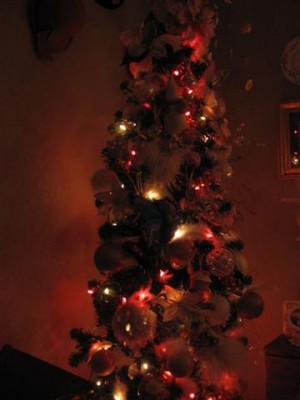 The bordello Christmas tree that stays in my bedroom.
When we got home, Buddy worked really hard in getting Nicole's dollhouse hooked up with electricity.  The pictures are a bit dark, but you can get an idea how beautiful the rooms look with the soft lighting.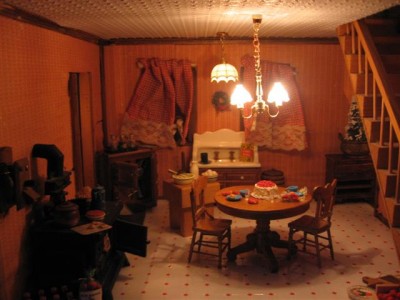 The kitchen.  My favorite room.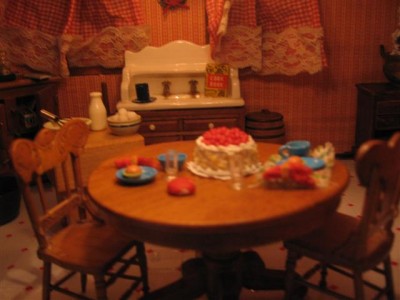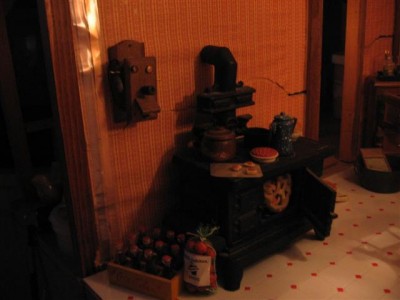 Old cast iron stove with coke bottles and a bag of apples.  T hat's a pie and some cookies on the stove.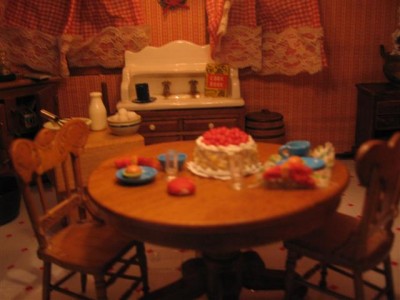 That's a bottle of milk and a bowl of eggs on the butcher block in the background.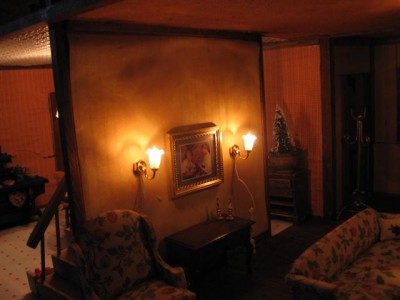 The wall opposite the fireplace.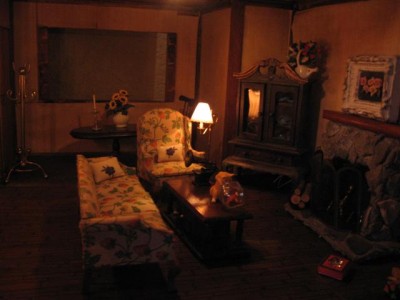 Living room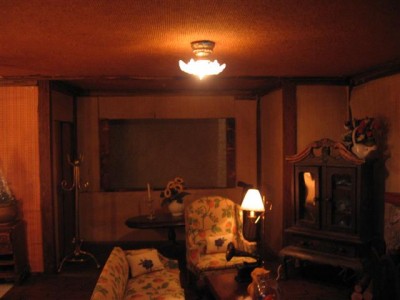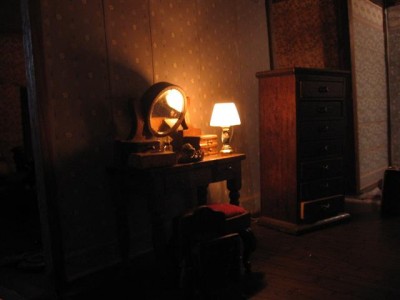 Bedroom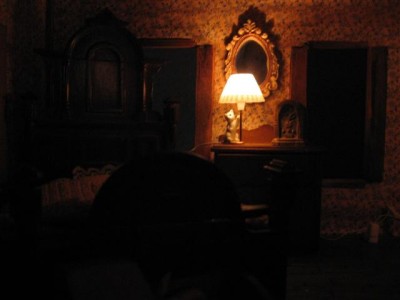 Bedroom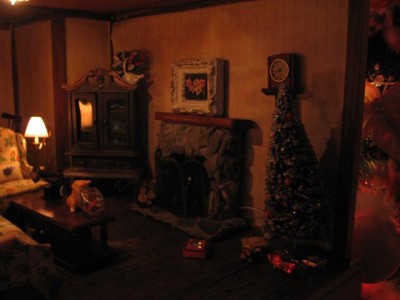 Fireplace in living room. I love the picture over the fireplace.
More to come about Nicole's New Year's Day tea party.
Blessings!